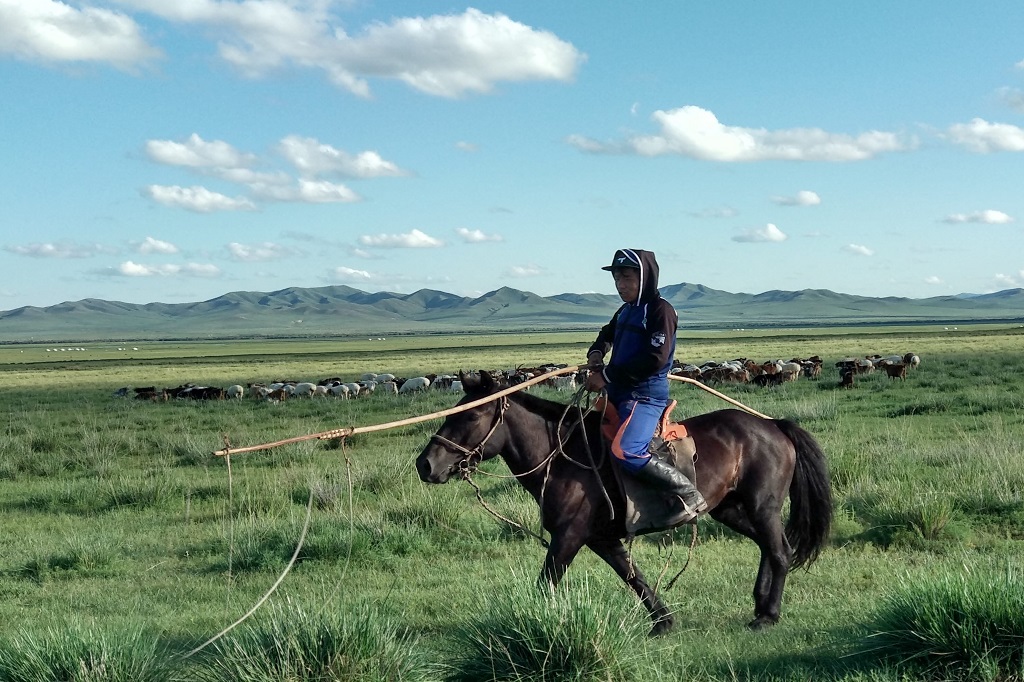 Update on progress on CE control in Mongolia
Cystic echinococcosis is highly endemic in most areas of Mongolia, where it becomes a major public health burden especially for nomadic communities.

In 2019, an Intersectoral Action Plan for the control of cystic echinococcosis was developed in Mongolia .

The present project aims to validate a commercial test that detects E. granulosus infection in dogs and to conduct a field study of E. granulosus infection in dogs in Bayankhongor province.
Cystic echinococcosis (CE) is most common in poor pastoral communities and it is highly endemic in most areas of Mongolia where it presents as a major health burden, especially to the nomadic communities. In the last few years increased efforts have been made to control echinococcosis in Mongolia.
1- Development of the "Action Plan for the control of CE in Mongolia"
In October 2018, the National Center for Zoonotic Diseases of Mongolia (NCZD) with the support of WHO organized a multi-sectoral workshop "Developing the National Action Plan for Control of echinococcosis in Mongolia". Following the workshop, a cross-sectoral Action Plan for the control of CE in Mongolia was developed during 2019, and it has now been presented to the Ministry of Health and the Ministry of Food and Agriculture for approval.
2- Facilitating tools for the identification and monitoring of active transmission of E. granulosus at the NCZD of Mongolia and creating a baseline in Bayankhongor province.
One of the challenges for the control of CE, has been the lack of diagnostic tools to identify E. granulosus infections in dogs. To overcome this, a project funded by PROBITAS FOUNDATION started in 2019, implemented by the NCZD and the Institution of Veterinary Medicine with the support of WHO and the University of Melbourne.
The project has two main objectives:
1. To validate a commercial Chinese copro-antigen test which detects E. granulosus infection in dogs at the NCZD so that it can be used to identify endemic areas and used to monitor future echinococcosis control programs in Mongolia.
2. To undertake a field survey for E. granulosus infection in dogs by coproantigen test in Galuut, Bumbugur and Baatsagaan soums of Bayankhongor Province.
Progress so far:
Samples have been obtained from 588 dogs, 6 cats, 12 foxes, 5 corsac foxes and 2 ferrets. The University of Melbourne has provided technical advice on the isolation of Echinococcus, and so far, 30 dogs infected with Echinococcus spp. have been detected among 198 specimens. The analysis and validation of the copro-antigen is continuing.
In October 2019, the project team conducted a field survey in 3 selected soums of Bayankhongor to determine the true host infection with the participation of the Centre for Zoonotic Diseases of Bayankhongor province. It started with a surveillance training for the local researchers. 345 samples of dog were collected, and questionnaires were taken from 276 dog owners.
The project team is preparing to conduct a training for parasitologists of each of the 21 provinces' veterinary departments and centres for zoonotic disease, to create a nationwide surveillance network and identify the definitive host of Echinococcus spp. Creating a surveillance network and skilled workers for detection is considered as a priority issue for the implementation of the Action Plan.
3- Ultrasound training and examination
NCZD specialists in cooperation with other health organizations, conducted an ultrasound examination for 1,977 children aged 6-18 in the three soums of Bayankhongor aimag in October 2019, funded by WHO. The screening survey revealed 8 cases of hydatid echinococcosis. After the screening survey, a training was conducted for doctors and veterinarians of Bayankhongor province on prevention and diagnosis of communicable diseases.
4- Dog treatment
The quarterly deworming of dogs with praziquantel has been approved by the Director General of the Veterinary Services in 2020, and so far, 344,300 pet dogs have been treated with praziquantel.
Subscribe to our newsletter