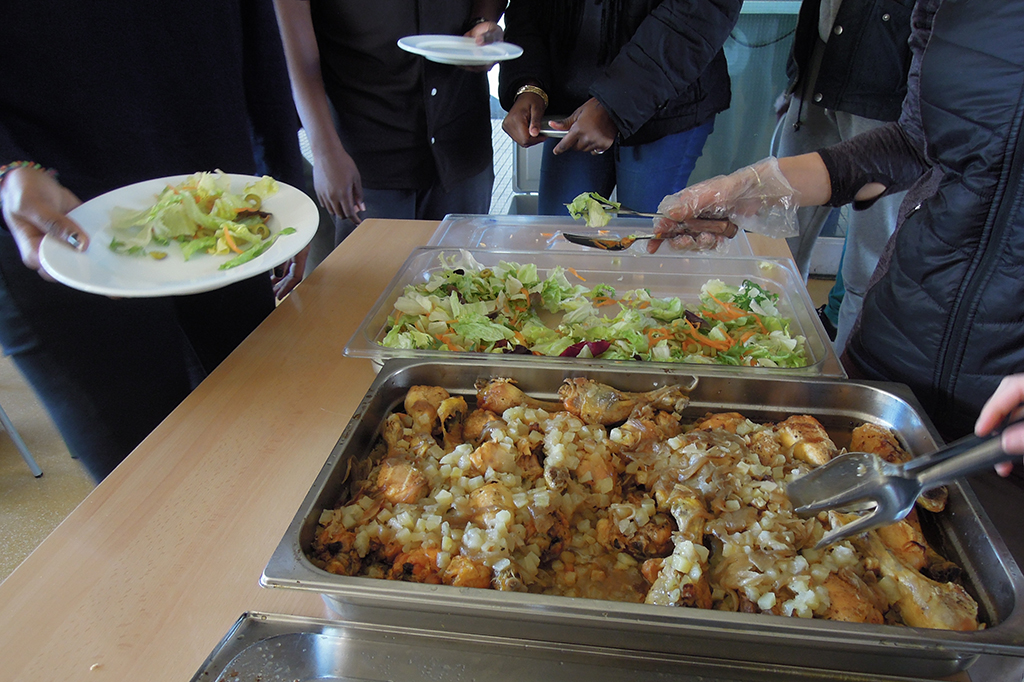 Vulnerable youth are left behind when they initiate high school
Due to the intensive schedule at secondary education the school canteens are no longer in use at midday. For vulnerable students at risk of social exclusion, whose family and social situation remains unchanged, this measure is particularly tough sincethey have been receiving school meal grants during primary school.
In front of this latent need, the Probitas Foundation has decided to start pragmatic activism with its RAI-ESO program in order to offer a nutritional meal once a day to the most vulnerable children and youth, and a safe environment where they can carry out socio-educational , sports, and school support activities.
During the 2012-2013 academic year most of the high schools decided to adopt an intensive schedule finishing classes at midday. As a consequence, the dining room service was eliminated and the authorities no longer offered free school meals. Such a measure had a particularly negative impact on the most vulnerable children and youth who lost the opportunity to receive a nutritious meal once a day. Those vulnerable students who benefitted from public grants up to June when they were in primary school, lost this right to awhen they started high school in September. Only about 1.7% of those youth are eligible for this grant, a figure which istoo low considering the high poverty risk in Catalunya and Spain.
In 2015 the Probitas Foundation started its own RAI-ESO project with the objective of covering the nutritional requirements of children and young people at risk of social exclusion in the framework of the RAI program.
The program aims to offer a healthy and nutritional meal in addition to a safe environment from 14.00 to 17.00 where adolescents aged 11-17 years can carry out socio-educational, sports, and school support activities
The pilot program has been developed in 7 centers of 6 municipalities (L'Hospitalet del Llobregat, Montornès del Vallès, Canovelles, Terrassa, Sabadell and Salt) with a total of 215 beneficiaries. Probitas has developed the project in collaboration with public high schools, socialorganizations, councils, and social services which have been in charge of identifying the minors who could benefit from the project. When possible, the activities have been carried out in the same schools; if this is not feasible the alternative has been the organization spaces or others provided by the councils. In each municipality Probitas identify the social organization which could be most suitable for the implementation of the RAI-ESO project, and it is this entity in charge of contracting staff, and catering service.
Apart from providing topupils a full meal, the aim of the project is to offer them an area of protection where they can carry out different socio-educational, sports and school support activities. It should be noted that this pilot program is accommodating so far a maximum of 40 minors in each center and currently various municipalities have a waiting list for the program. Such a demand highlights the need for this nutritional and socio-educational resource for minors at risk of social exclusion in the various municipalities where we are intervening.
An evaluation has been recently conducted using a questionnaire for educators and monitors who work daily in the RAI-ESO project and a number of conclusions has been drawn:
The educators and monitors rate very highly the joint work with Social Services in detecting vulnerable minors who need to benefit from the program.
Both principals and educators agree on the positive impact of the program and have detected an improvement on student's nutritional status, a decrease in school absenteeism and a positive change in their behavior after several months of receiving this support. The pupils appear to be happier, more open to participate in the activities, and with greater group cohesion. The families appreciate the program and a better relationship has been observed between them and the social organizations.
For the 2017-2018 academic year the number of RAI-ESO beneficiaries is expected to increase as we believe that the project is an essential cornerstone of the RAI program and a true need for these vulnerable minors that is not covered by the public administration. The RAI-ESO model, which we call "Eating Together", has been agreat success in the 7 pilot projects we are developing.
We hope to extend and replicate the project in other secondary schools where we could identify other vulnerable children and youth.
Subscribe to our newsletter