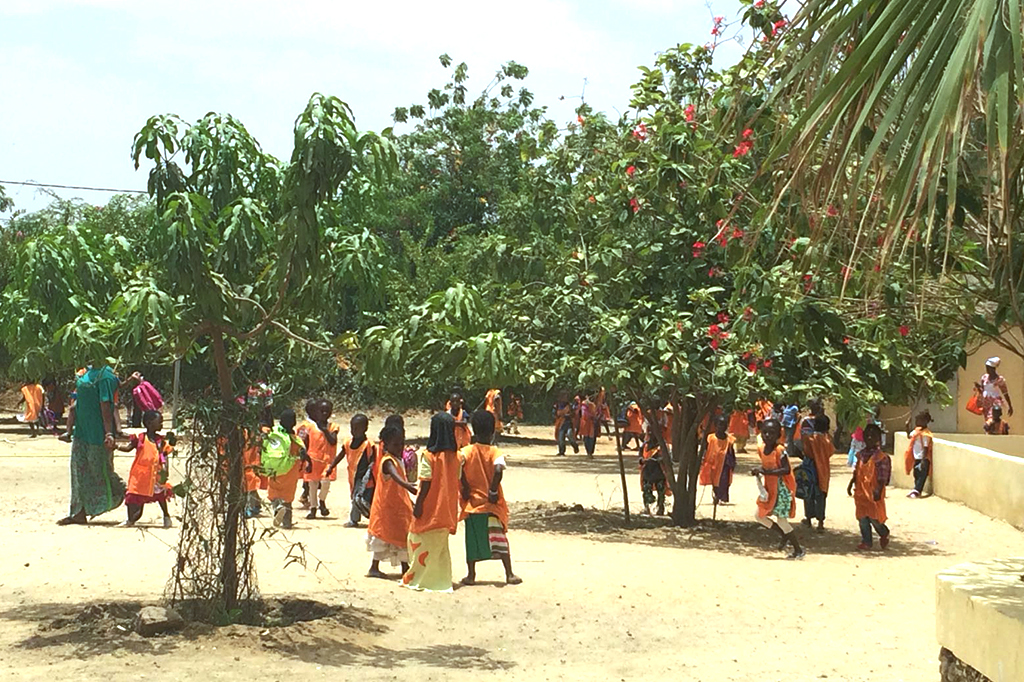 Probitas Foundation travels to Richard-Toll municipality to visit ALVES project
A centre delivering school reinforcement, health, access to vocational training and nutritional support for children
From May 14th to May 17th Cristina Vico from Probitas Foundation voyaged to Richard-Toll town (Senegal) in order to
follow up ALVES project
(Association Against Social Exclusion and Vulnerability), a
centre delivering school reinforcement, health, access to vocational training and nutritional support for children
to prevent and tackle against social exclusion of children and youth in this area of northern Senegal.
Inside the project
Some of the
trip goals
that stand out are:
identify areas for improvement
through meetings with all staff involved, the community and families, to review their accounts status,
to establish common procedures,
to interview the new coordinator of the centre, Mr. Amadou Diack, to review the status of the AGR (Income Generating Activity, French acronym) and to study the feasibility of new proposals such as the reform of the centre track or to have a motorcycle for Social Worker and Nurse journeys. The visit also served to get in touch with its director, Mr. Ngary BA, a community leader in Richard-Toll.
ALVES project is characterized by:
To be the only centre of these characteristics in Richard-Toll.
It has more than 10 years of experience in helping children between 3 and 18 years old.
Offering a wide variety of activities:

Children Attention and psychostimulation
School reinforcement for children in primary school
Nutritional support
Access to vocational training: electricity, carpentry, hairdressing and sewing
Talibés Youth access to non-formal education, health and access to training of different careers.
Internet cafe
AGR (Income Generating Activity, French acronym) are activities that generate income and are proposed to centre mothers attending the centre. Among these we can find: market garden, rice decorticating machine, millet and chicken breeding. This group in particular, is also given the possibility of doing a literacy course.

The most costly part of the project –such as infrastructure- is already covered therefore the funds can allocated to improve and innovate the activities already implemented.
ALVES project director, Mr. Ngary BA is a community leader and a key figure in the area.
It is a project that has more than 300 beneficiaries (children and young people) and is highly valued by all of them.

Through all these activities ALVES aims is
to support children and teens to ensure good integration in the school system and in upcoming professional future
, to achieving centre sustainability and the develop the potential of mothers who attend. To make it possible, Probitas continues providing expertise and experience in this area of Senegal and reinforcing the needs of the centre with technical resources that are now co-financed by the Cooperation of Monaco.
Context Richard-Toll
Richard-Toll municipality is located in the Saint-Louis region, on the border with Mauritania. Its population has increased from 34.00 0 inhabitants in 1985 to around 127,000 people nowadays. Due to its strategic location, Richard-Toll is a crossing area that attracts families looking to work on the cultivation of sugar cane.
Its health situation is characterized by having a population that lives, mostly, in precarious conditions where two out of three people live under poverty threshold in rural areas. In general, income does not allow them to meet all their daily health and nutrition needs. This is one of the reasons why children and young people suffer from diseases such as diarrhoea, urinary schistosomiasis, skin diseases, respiratory diseases, intestinal parasites and malaria.
Subscribe to our newsletter