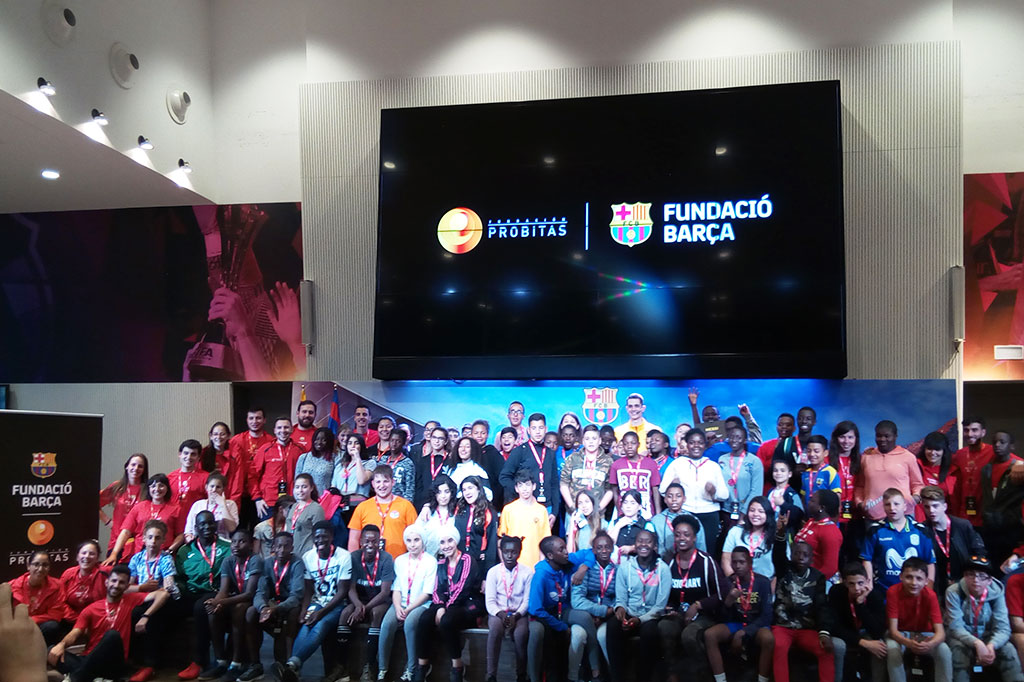 A health and sport day
Probitas Foundation, in collaboration with Barça Foundation, have organized two days to promote the practice of physical activity and healthy habits directed at the beneficiaries of the Probitas program RAI Secondary School: "Let's eat together!". The event was held at the Barcelona Miniestadi and it was carried out on Sunday, April 29 and Sunday, May 27.
Event's aim is to
approach youths to healthy habits and the practice of sport through sport games and educational activities
. The organizations that joined in April 29th have been Ludoteca Bedós (Sabadell), Reir (Montornès and Canovelles), Club Infantil i Juvenil Sant Feliu (Hospitalet) and Nou Quitxalles (Hospitalet), with a total of 112 participants. On May 27th the organizations that attended the event were Can Palet (Terrassa) Casals dels Infants (Santa Coloma and Salt), Esquitx (Sabadell), Itaca (Hospitalet), La Gresca (Ripollet) and Rialles (Santa Coloma) with a total of 178 participants, all of them beneficiaries of the RAI Secondary School program: "Let's eat together!" from these municipalities.
The day
Throughout the day, youths have performed
8 sport games with a didactic background.
Each activity has been accompanied by a thought about healthy habits. Some of the issues addressed were among others, the importance of drinking water and becoming aware of the hydration, learning to identify nutrients that are part of the food pyramid, acknowledge the benefits of healthy eating and to become aware of what means a healthy life. During breakfast break, teens could enjoy a bowl of fruit to recover their strength and continue with the second part of the activities. After completing the 8 games they had lunch at the Auditorium 1899 and were able to attend a speech by former Barça basketball player, Rodrigo de la Fuente. To finish the day, children have visited the Espai Fundació and the FC Barcelona Museum.
All parts involved have valued very positively the activities. Not only for
the success of participation but also for the motivation of youths
in each day goals.
Subscribe to our newsletter