Ferran Adrià, Twin Families Ambassador
The aim of the collaboration is to guarantee access to healthy food in a protected environment for children in vulnerable situations.

Chefs Nandu Jubany, Ada Parellada, Fina Puigdevall, Victor Gonzalo and Sofia Janer will also participate in the project through healthy and affordable recipe workshops on social networks
Ferran Adria has become the ambassador for Fundación Probitas' Twin Families initiative, a solidarity project that proposes that families twin with others in vulnerable situations for ensure that children at social risk have access to a healthy food a day in the school canteen, a protected socio-educational environment. Through this collaboration, and with the start of the new school year, Foundation Probitas and Ferran Adrià seek to get maximum support for Twin Families with the aim of contribute to equal opportunities for children in situation of child poverty in our environment. According to the latest report published by the High Commissioner against Child Poverty, in Spain there are 2.3 million children living in poverty. In this academic year, 2021-2022, Foundation Probitas offer dining scholarships to more than 2.000 boys and girls at social risk.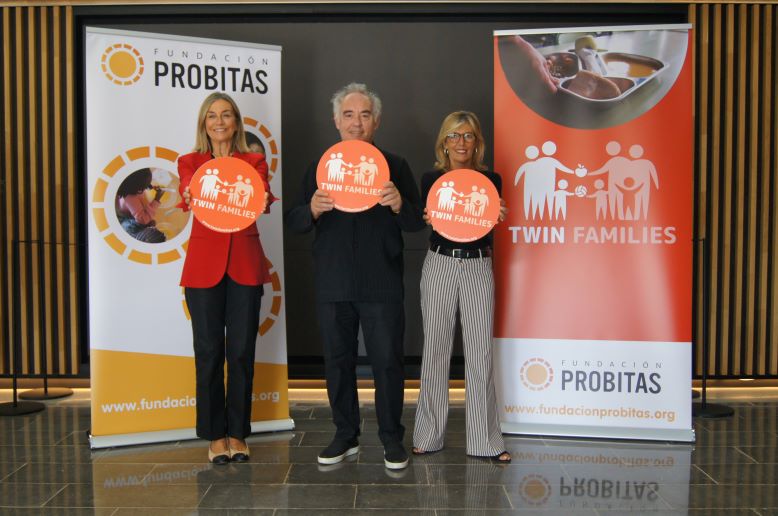 Nuria Martín and Dra. Anna Veiga, president and director of Probitas respectively, presented the campaign with Ferran Adrià.
Ferran Adrià points out that "it is an honor to join Fundación Probitas as an ambassador for Twin Families. The pandemic has aggravated the situation of poverty of many families and it is time to be in solidarity with the people around us. As a chef, I know the importance of food for the proper development of children and, therefore, I wanted to be part of this initiative".
Anna Veiga, director of Fundación Probitas highlights that "it is a privilege to have Ferran Adrià as an ambassador of Twin Families and with the collaboration of Nandu Jubany, Ada Parellada, Fina Puigdevall, Victor Gonzalo and Sofia Janer. Support for the initiative is more necessary than ever due to the deep social and economic crisis caused by the pandemic and which has caused many families to find themselves in a particularly complicated situation. We appreciate their solidarity and support for Twin Families."
Within the framework of this alliance, Ferran Adrià has invited his chef friends Nandu Jubany, Ada Parellada, Fina Puigdevall, Victor Gonzalo and Sofia Janer to cook healthy, economical and food-efficient recipes live on Fundación Probitas' Instagram account. The aim is, in addition to publicising Twin Families, to raise awareness of the importance of practicing healthy habits and demonstrate that you can cook nutritiously and healthily with an affordable budget and in a short space of time.
You can become part of Twin Families through http://www.twinfamilies.org./
Subscribe to our newsletter