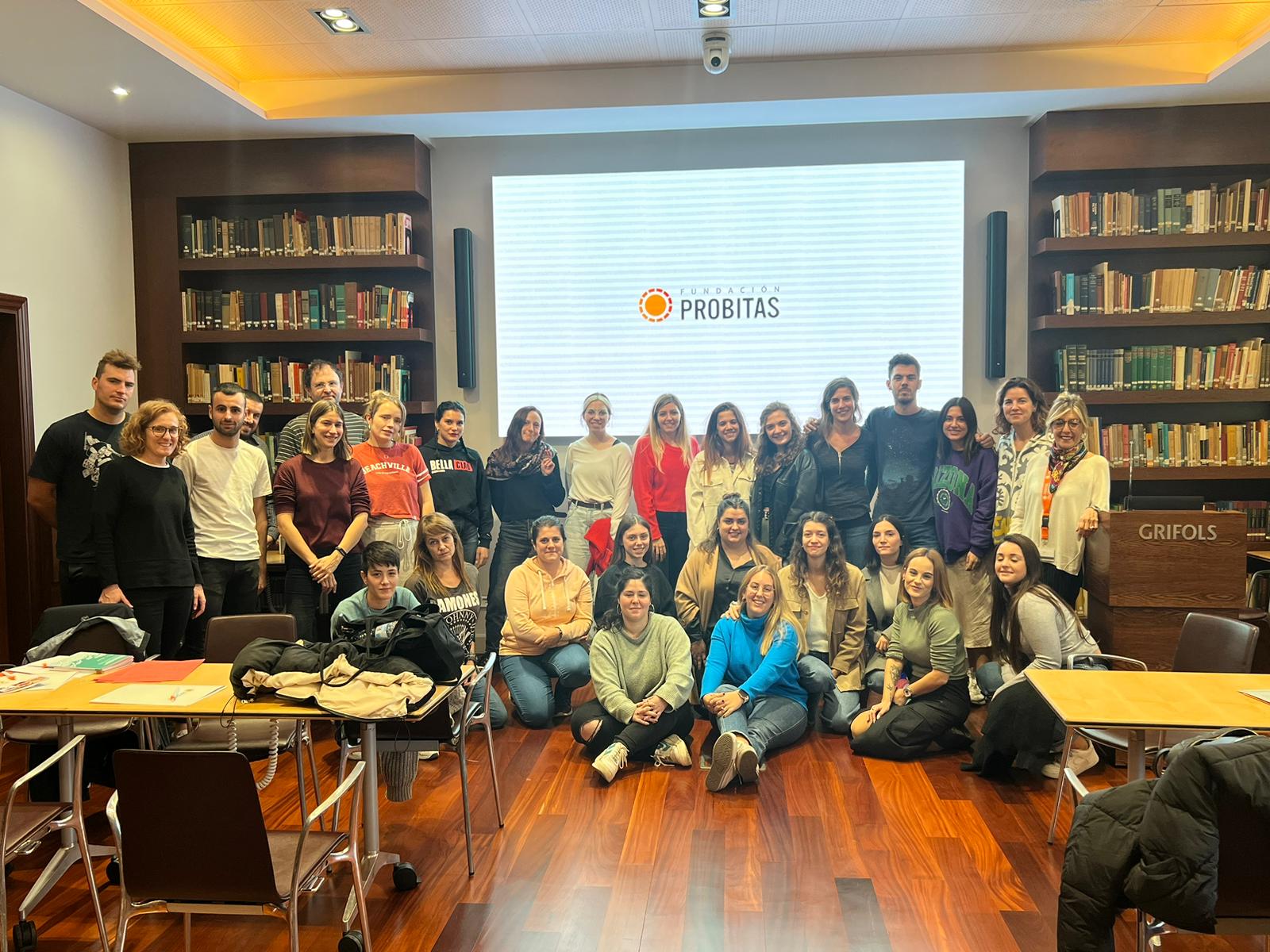 The Dinem Junts! programme takes up its annual meeting
13 social organizations take part in the day of reflection on the development of the programme during 2022.

Dr. Estivill, a specialist in sleep medicine, participated to highlight the importance of rest time.
Fundación Probitas has taken up the annual meeting with educators from 13 different organizations involved in the implementation of the Comemos Juntos! programme in 16 city councils, after two years of absence due to the pandemic. The aim of the meeting was to share reflections and learning to continue improving the educational intervention with the young people who participate in the programme. In addition, the organizations shared experiences and lessons learned from the difficult situation experienced during the pandemic, which led to the search for new strategies and tools to be able to continue offering support to adolescents at a particularly complicated time for the most vulnerable groups.
One of the main purposes of the Comemos Juntos! programme is to promote the acquisition of healthy habits, including proper nutrition and hygiene, physical activity, as well as rest and emotional well-being. For this reason, we have counted on the attendance of Dr. Estivill, a specialist in sleep medicine, to talk about the importance of rest time for the correct development and wellbeing of children.
Dr. Anna Veiga, Fundación Probitas' general manager, opened the session by stressing that "the Comemos Juntos! programme is one of the Foundation's benchmarks because of the way it tackles a problem in a global way thanks to intense networking". Veiga insisted on "the important role played by all the people involved in the project".
Yurena García, social educator in charge of Comemos Juntos! which is run by Casal dels Infants at IES Terra Roja, pointed out that "participating in Comemos Juntos! means much more than just coming to eat. Families and participants need to feel accompanied in a specific family moment where each reality is unique. For teenagers, belonging to the group means having a safe space where they can grow and improve the socio-educational skills they will need for their future and their personal, academic and social development".
Subscribe to our newsletter