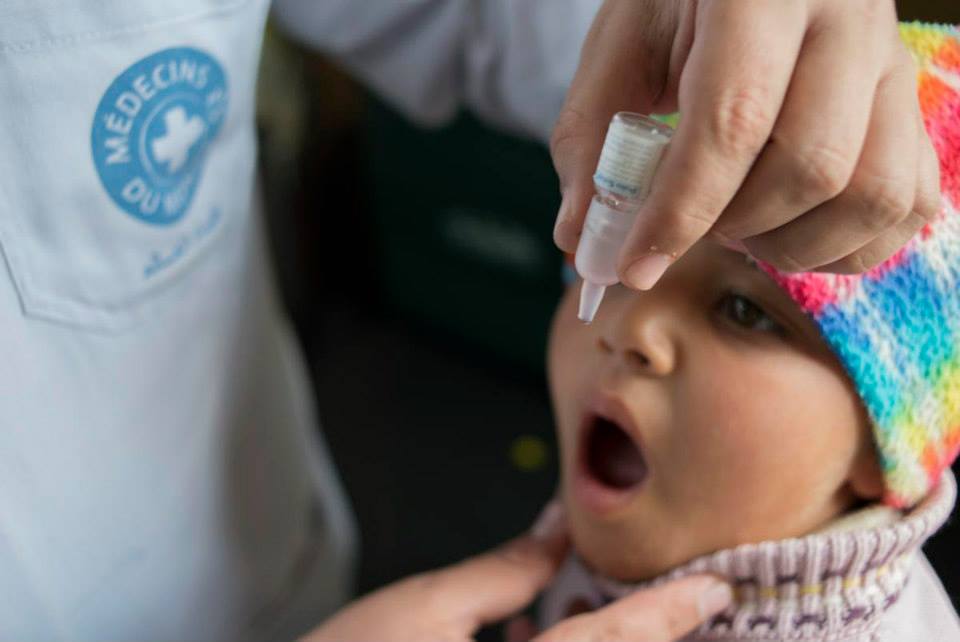 The Syrian Civil War: The Conflict with the highest number of Displaced Persons in Recent History
The Syrian Civil War is now the conflict that has caused the highest number of displaced persons in recent history. Over 100,000 people flee across the border every month, and nearly 6.5 million people have been displaced within the country. As of today, there are more than 2.8 million refugees registered or awaiting registration in neighboring countries like Egypt, Iraq, Jordan, Lebanon and Turkey.
Moreover, a growing number of Syrians are seeking safety in much more distant countries. Many are embarking upon long journeys, in some cases to reunite with relatives living in Europe.
According to data provided by the Spanish Committee of the UN Refugee Agency (ACNUR), there are currently 123,000 Syrians in Europe, approximately 60% of which are concentrated in two countries: Sweden and Germany. The figures in Spain are much lower with only 250 Syrian asylum applications received in 2012 and 725 received in 2013. Many Syrians are currently crossing the borders of Ceuta and Melilla, including families with young children that have suffered three years of war and traveled thousands of miles in search of a safe place to live.
As a result, the Syrian Civil War has become one of the worst humanitarian crises in recent history, largely because it is the conflict that has caused the highest number of displaced persons. A figure posted on the website of the Spanish Committee of the UN Refugee Agency (ACNUR) is enough to understand the magnitude of the conflict and of the displacement of Syrians around the world: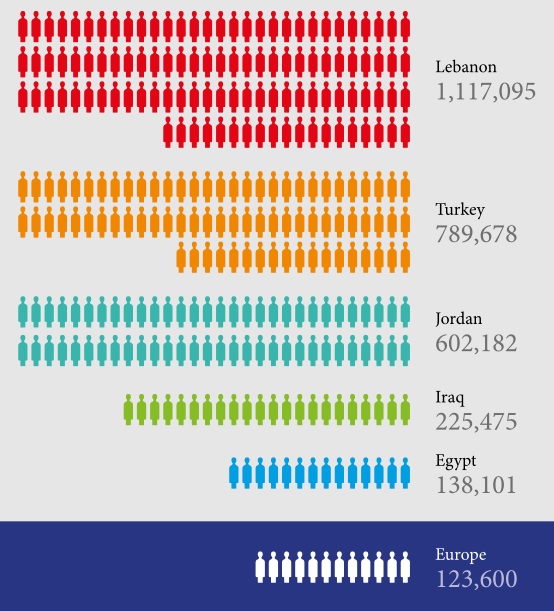 Is Europe Showing Solidarity with Syrian Refugees?
The report Syrian Refugees in Europe: What Europe Can Do to Ensure Protection and Solidarity recently published by the UN Refugee Agency (UNHCR) highlights that the response by European countries to displaced Syrians has been good, showing signs of solidarity that go beyond national, European and international legal obligations. This includes the humanitarian response by 17 European countries which have offered around 31,800 refugee slots between 2013 and 2014.
However, the report also reveals certain problems and practices, such as refugees being returned to borders, slow access to effective asylum procedures, inadequate living conditions for refugees and the use of detention.
In Spain, most Syrians who apply for asylum are granted international protection and given access to refugee shelters where they can stay for a maximum of six months. They are also entitled to healthcare and education for their children. They are registered with an identity card that allows them to live and work in Spain. Nonetheless, as stated by María Jesús Vega, spokesperson for ACNUR in Spain, "we can assume that, if it's difficult for a Spaniard to find work, for a foreign refugee it is much more so, because he or she doesn't speak the language well, doesn't have resources, or family, friends or acquaintances in the country and is sometimes discriminated against because of his or her race or nationality."
The Work Done by ACNUR for Displaced Syrians
For over three years now, ACNUR has been providing shelter, aid and assistance to Syrian refugees in neighboring countries, but the number of Syrian asylum seekers started to rise in 2011, when victims from the current crisis arrived. ACNUR also works to ensure that Syrian children have the greatest possible access to education within the country where they settle.
The organization continues to pay particular attention to protecting those who are most vulnerable, as 80% of displaced persons are women and children. "Both refugees and internal displaced persons who stay in Syria experience constant humans rights violations, the deaths of loved ones, sieges, hunger and deprivation," asserted María Jesús Vega.
But the organization is not giving up: "We work to save lives, to provide them with humanitarian assistance and to help them start from scratch in occasionally hostile environments. But the limitations to covering even the basic needs of these refugees are great, starting with the lack of funding," affirmed the ACNUR spokesperson.
Organizations like ACNUR and the report by UNHCR urge countries across Europe to mount a long-term response based on their responsibilities under international law and to "show solidarity with Syria's neighbouring countries."
ACNUR is continuing with the campaign Todos tenemos una herida abierta en Siria (We All Have an Open Wound in Syria), where anyone can read more about this emergency and collaborate with Syrian refugees and displaced persons.
The Probitas Foundation collaborates with ACNUR on projects like GLI-Ecuador, a project designed to enhance the diagnostic capabilities of the Puerto del Carmen Healthcare Center on the Colombian border. The Foundation is also currently working to improve the comprehensive care provided to the most vulnerable refugees and local population en Ecuador.
Source image 1: UNHCR / G.Beals
Source figure: Syrian Refugees in Europe: What Europe Can Do to Ensure Protection and Solidarity. UNHCR, 2014. UNHCR, 2014.
Subscribe to our newsletter