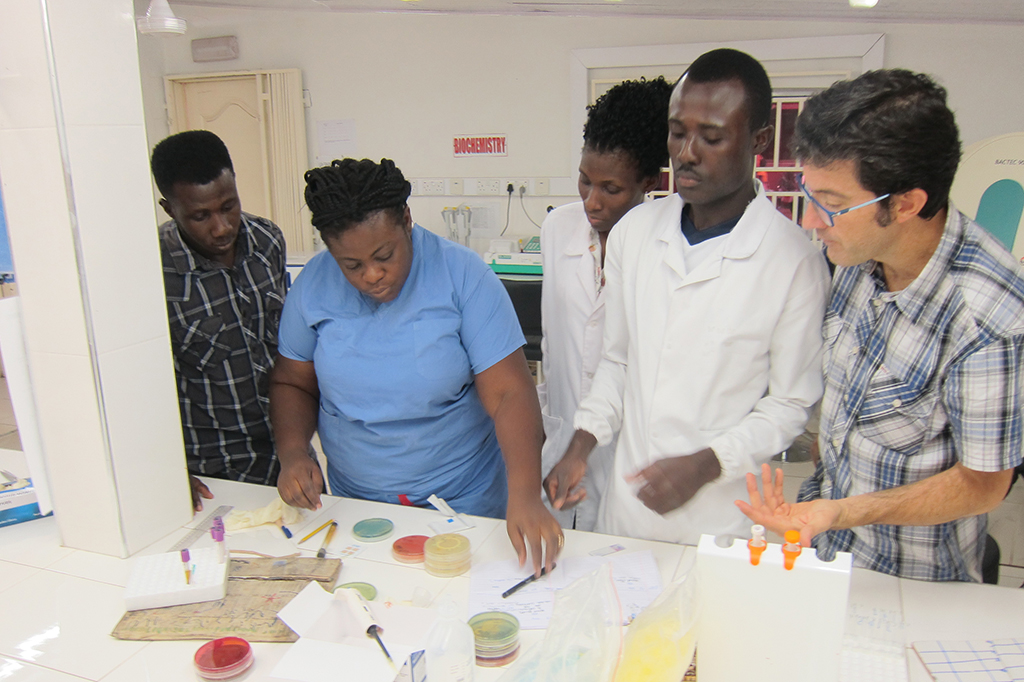 The Probitas Foundation holds a course on bacteriology for the medical staff from the Maternal & Child Health Hospital in Kumasi, Ghana
The medical staff of the Maternal & Child Health Hospital received for two weeks, from September 26th to October 7th, a theoretical and practical training in bacteriology focused on improving the diagnosis of the most prevalent infections using laboratory techniques that allow direct diagnosis of the causative agent. The course was conducted by two clinical microbiologists of the Microbiology Department of the University Hospital Vall d'Hebron (MD-HUCH), Drs. Mateu Espasa and Daniel Romero.
This maternity hospital, with which the Probitas Foundation develops its
GLI-Kumasi
program, is specialized in the diagnosis and treatment of severe malnutrition, covering the basic health needs of the surrounding rural areas. Currently, the program is in its
final phase of implementation
. During this stage the formation and training of local staff will be strengthen in order to improve their resolution capacity to achieve self-management at the hospital laboratory.
Basic training in microbiology was performed in October last year. The main objective was to strengthen diagnostic techniques in parasitology in general and malaria in particular. This year, the course was focused on bacteriology, combining theoretical classes with laboratory practices.
The course was focused on the hospital staff, but due to the great interest received, the trainees participated too. The training has been designed to introduce bacterial culture techniques, sample processing, detection of bacteria, testing susceptibility to antibiotics and improving the workflow in the laboratory of the Maternal & Child Health Hospital (MCHH). To this end, the Probitas Foundation under the GLI program has provided the laboratory with new equipment, the Batec equipment, that will boost the bacteriological diagnosis in the hospital.
Classes have met the needs of the staff about the major infectious diseases caused by bacteria in the area. Therefore, the staff was trained in basic bacteriology, including the handling of sterile biological fluids, as well as the specific diagnosis of "meningitis", Gastroenteritis (Salmonella, Shigella, Vibrio cholerae), some sexually transmitted infections, urinary tract infections, arthritis and skin infections.
The aim is that the health staff will be able to diagnose the causative agent of the infections and treat patients appropriately while avoiding resistance and promoting rational use of antibiotics.
Subscribe to our newsletter