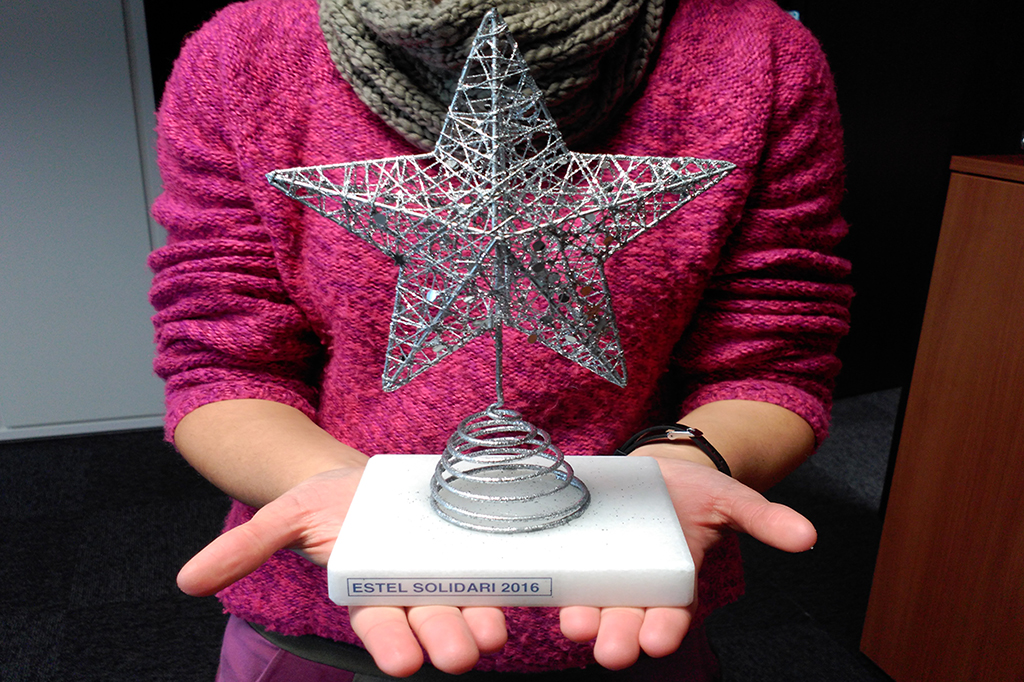 The Educational Association Nou Quitxalles celebrates its annual awards ceremony, granting a prize to the Probitas Foundation called "Estel Solidari"
On December 14th, the Probitas Foundation received the "Solidarity Star 2016" award granted by the Educational Association Nou Quitxalles, for its involvement within the social reality, specifically regarding the project that our Foundation develops on school meal support programs with private financing. The entity awarded several volunteers, orgnizations and companies that have collaborated with them during this year 2016.
The third edition of "La nit dels estels" (The Night of the Stars) took place in the Auditorium of the Cultural Center of Bellvitge in Hospitalet a neighborhood where the entity is ingrained. Our Executive director, Doctor Marta Segú, collected the prize on behalf of the Foundation team.
The Foundation with its own RAI-Secondary School program has been working for 3 years with Nou Quitxalles with the aim of guaranteeing a nutritious meal a day in a safe environment for the most vulnerable young people. Specially for youth who don't receive any kind of school meal support, which increases vulnerability due to intensive day in high schools. The Foundation has also been collaborating with this Entity on the July activities for the last 4 years, supporting the children's canteen in the Summer Program.
We want to thank the Nou Quitxalles Association for this recognition and thank them for their daily work as well as emphasize the great social mobilization in this neighborhood of Hospitalet. It makes possible that lot of families and young people have more opportunities and let them grow in an environment of solidarity and social cohesion.
Subscribe to our newsletter