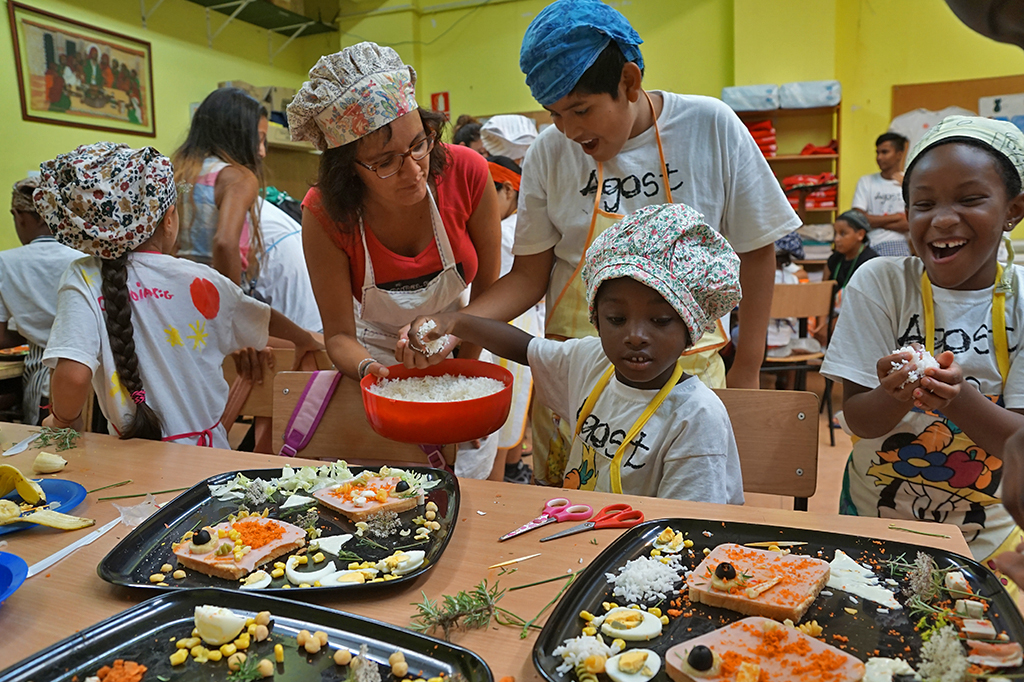 Everyone, time to eat!
In August the
Probitas Foundation promoted cooking workshops to promote healthy eating through the recreational experience of cooking with fresh and seasonal products
, at entities to which it provides support.
The courses are part of the
L'Agost per tots!
programme, which forms part of the
RAI Summer Camps project
, carried out in coordination with Town Councils and Territorial Entities.
The three entities that participated in the workshop were:
Rialles
, Santa Coloma de Gramenet, with participation by 50 children ages 6 to 12;
Tamboret
, in Barberà del Vallès, with 30 children ages 5 to 12; and
Rodola
, an entity in Parets del Vallès, with 30 children ages 3 to 14. Thus,
about 110 children were able to enjoy a fun-filled activity
for two hours. In the kitchen they learned about the use of aromatic herbs, as well as fruits and wild flowers that children can find in their environment, such as fennel, thyme, rosemary and blackberries, to name a few. The course also allowed the children to identify seasonal foods and learn to use them.
During the workshop
the children donned cooking attire
, with aprons and hats
and prepared a healthy and fun dish while developing their imaginations and artistic creativity
with the foods, guided by the staff. After the workshop the children were able to consume their own creations.
The
Rural Salut
team – a business initiative made up of health and communications professionals and dedicated to devising and carrying out leisure and educational activities involving nature –
was in charge of running the workshop, designed to promote healthy habits among young children
. The team is formed by
Ester Corrales Baza
, a nurse specialised in Oncology with 20 years of experience in the care, management, teaching, and research areas at the Hospital Duran y Reynals Hospitalet de Llobregat; and cultural promoter
Natxo Oñatibia Gurrutxaga
, with more of two decades of experience in this area.
This year the workshop was a pilot programme. Due to the positive feedback received and evaluation both by the staff and the Probitas Foundation, it may be offered again next year at more camps.
Subscribe to our newsletter