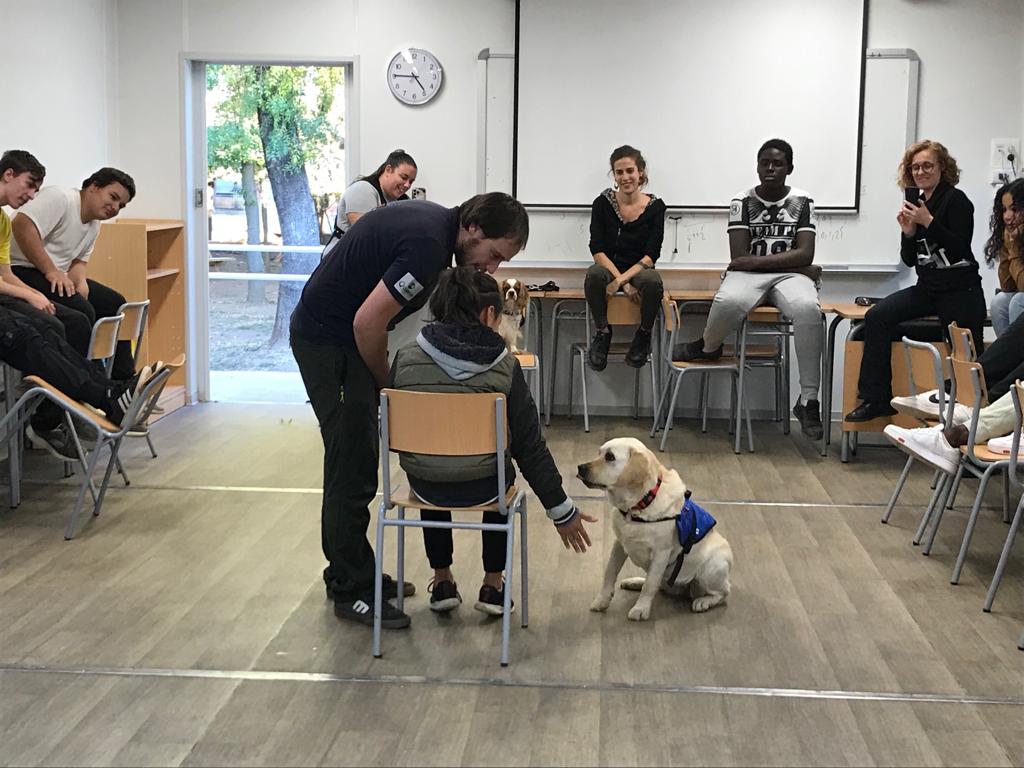 Probitas Foundation starts an educational intervention program with dogs
The Probitas Foundation, in its innovative spirit, has started a pilot test with dogs, with the aim of improving the environment among young people and being an element of pacification and progression in the emotional well-being of the participants.
Last Thursday, November the 17th, the educational intervention initiative with dogs was presented, which the Probitas Foundation is carrying out at Institut Salvador Espriu of Salt. In this way, the first phase of the educational intervention with dogs began with the participation of youngsters, dogs and educators.
Eight-month educational program with dogs
Today the inaugural session will take place, with the participation of two groups of 10 young people each, who will receive socio-educational support in monthly sessions (with a duration of one hour per meeting). The sessions will be guided by two educators (the reference from Casal dels Infants entity and the one from CTAC Girona, who accompanies the dogs). Thus, the program of 26 total sessions -13 per group-, will last throughout the academic year 22-23 (from November to June).
The project focuses on educational interventions with dogs and adolescents from Institut Salvador Espriu of Salt. The objective is to create a space for emotional support that helps them improve their social, educational and relational skills, with the dog as the key support. The bond between the teenager and the dog is the basis that serves to involve them in the project, drawing their attention in an innovative way and arousing their interest and motivation.
Dogs as a tool for social integration and peacemaking
Intervention dogs behave in a balanced, sensitive, happy, attentive and very affectionate way. They are always available to others and are very proactive when it comes to interacting. The educational intervention with dogs favours the cognitive, emotional and physical development of the young participants in the program. Thanks to his company, they suffer less stress and feel happier, which results in a substantial improvement in their self-esteem and security. Throughout the program, educators monitor young people to determine if they improve emotionally, generating an ecosystem of calm and collaboration.
The relationship established between the teenager and the animal encourages young people to be more open and have a more positive attitude; It makes them acquire a higher level of responsibility and have greater social competence.
For these two powerful reasons, dog-assisted interventions are a highly effective resource to improve the personal well-being of program participants (it helps youngsters master strong emotions and overcome fights and conflict situations). Dogs become a critical counterpoint, since they do not respond to the aggressive behaviour of young people and, with their interaction, they tend to change inappropriate behaviour for a more balanced and calm one. Dogs contribute decisively to fostering positive energy in the environment, eliminating sadness and feelings of fear and threat. Animals function as powerful behaviour stabilization tools.
Subscribe to our newsletter