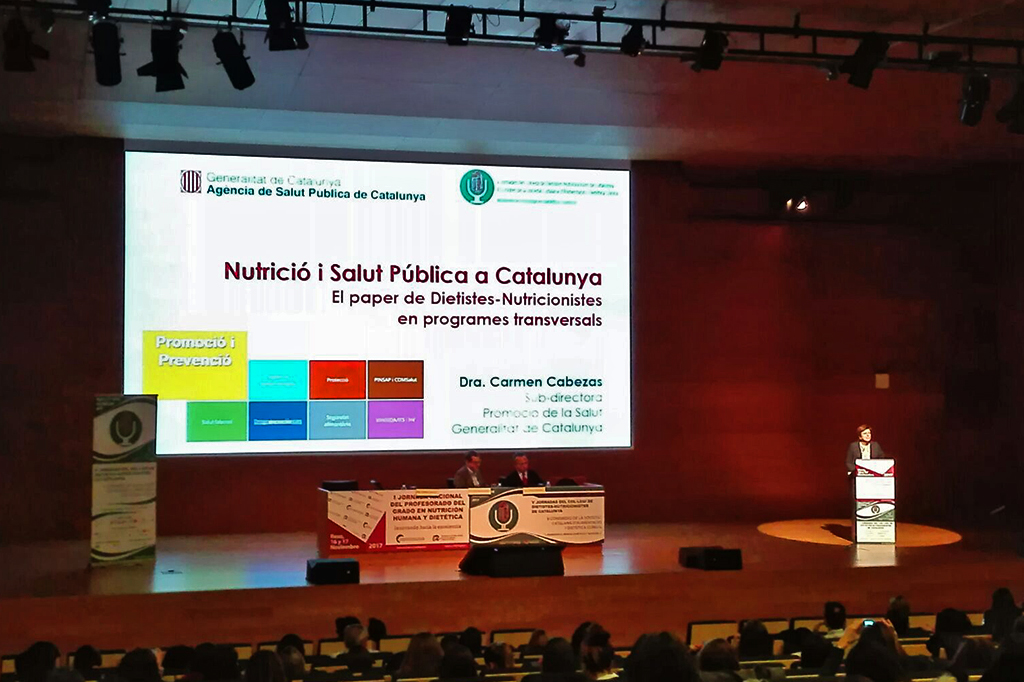 Human Nutrition and Dietetics Conference
Probitas Foundation attended the event to refresh its knowledge in the area of healthy eating
On 17 and 18 November the
5th Conference of the Association of Catalonian Nutritionists and Dieticians
(CODINUCAT) and the Second Congress of the Catalonian Nutrition and Clinical Dietetics Association (SCADC) were held in the city of Reus, under the motto
Managing the Message on Dietetics and Nutrition
.
The two days of presentations reflected on the incorporation into the health system of recent graduates, and its main objective was
to educate, help and persuade the public to make permanent and healthy changes in its eating habits
, without confusing it.
The sessions were directed at professionals in the health sector, as well as teachers and students, and all those interested in understanding the latest trends in the areas of nutrition and health.
The
talks were given by national and international speakers
, renowned in their respective fields. They addressed issues like the role of nutritionists in cross-cutting health programmes, the use of new teaching technologies in Human Nutrition and Dietetics, and the risks and benefits of different foods. On the second day of the conference the topics focused on
child nutrition and other food-related health issues that generate social alarm
.
Strengthening the RAI Programme
These two conferences were attended by Probitas Foundation's two nutritionists,
Clara Sistac and Elisabet Solà
, in order to
stay up to date and informed regarding the latest trends affecting the food sector
and to continue to bolster and refine the main nutrition programmes backed by Probitas Foundation in this area. Since its founding in 2012 the
Child Nutrition Reinforcement
(CNR, or RAI, from the Spanish) programme has enabled more than 17,100 children in vulnerable situations to receive support throughout the school year.
The latest developments in the area of healthy eating will serve to strengthen Probitas programme and reinforce its current foundations. The CNR/
RAI Ayudas Comedor
(School meal support) is a
project that provides support to families who cannot cover the cost of their children's school meals
. Most families in vulnerable situations have been forced to reduce the nutritional quality of meals to cope with high food prices and the difficulty of finding quality products at a lower cost.
Staying abreast of the main trends in nutrition and food will allow the Foundation's nutritionists to bolster the CNR/RAI programme and
continue to promote the healthy physical, mental and emotional development
of the most vulnerable children and young people.
Subscribe to our newsletter