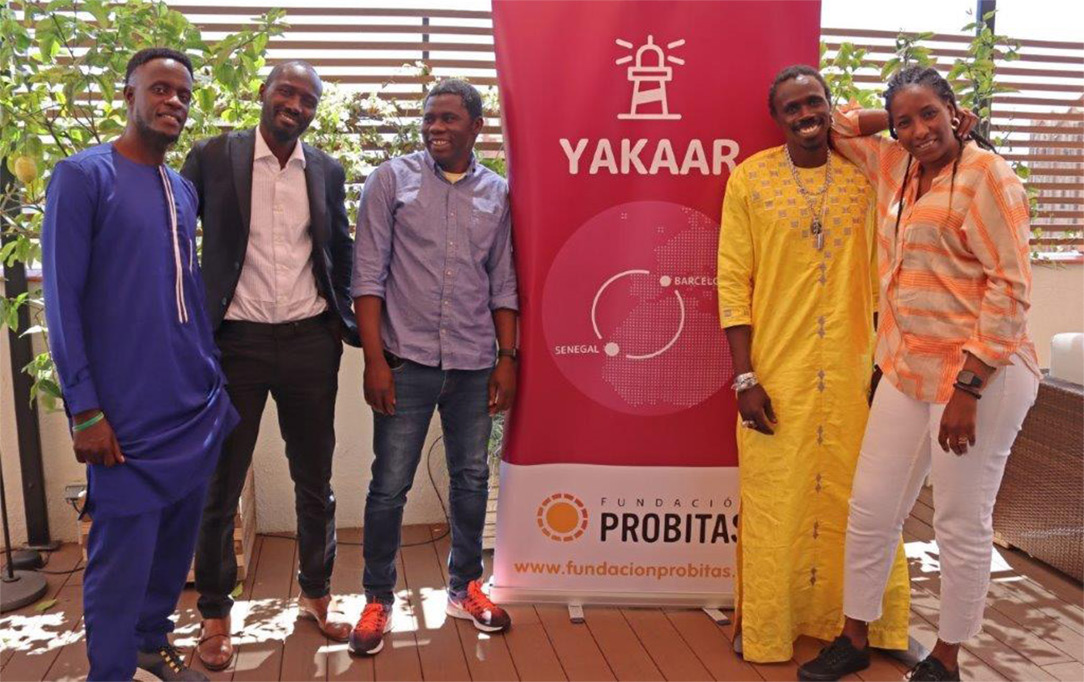 Five new projects come to light in the third edition of the Yakaar project
After 9 months of training, Dame, Habsa, Issa, Mamadou Moustapha and Ousseynou have received their diplomas in Barcelona to start business initiatives in their country of origin.

A multidisciplinary team of support and accompaniment has helped to materialise and consolidate the projects that will end up being implemented in Senegal.
Probitas Foundation, through the third edition of the Yakaar project, continues to deepen this initiative aimed at giving people from Senegal the opportunity to develop their maximum potential in their country of origin. Anna Veiga, director of Probitas Foundation, encourages the program participants to see their reality with optimism: "We think that they should not see their return trip as a failure, but as an opportunity to acquire knowledge and become a reference for their community".
In 2021, five Senegalese in a vulnerable situation received scholarships from the program, training them to be entrepreneurs in their country of origin and promoting their integration into the community, as people of reference, to make other young people aware of the difficulties and risks of migration processes. Thus, it is, as a whole, an innovative look at a problem that persecutes immigrants who fail to prosper in Spain.
After 9 months of immersion in an intense training program, they return home with enthusiasm and optimism. It has meant a great effort for all of them, since they have had to overcome several evaluation and training phases until they have each business project 100% defined.
Five initiatives in the Yakaar's third edition
The third edition of Yakaar has resulted in five business ideas that will be carried out, during a later second phase, in important cities of the country such as St. Louis, Touba or Dakar.
Dame Gadiaga's dream, after 14 years in Spain, has materialised with the business of selling fabrics with an added sewing service: "That way I can be with my family again, because I've been away for a long time. I want to participate in the development of my country".
Habsayatou Li, mother of three children, wanted to return to her roots so that "the children know their family and culture". Through a nursery school -from 3 to 5 years old- in a Dakar neighborhood, she intends to "help families and children in their initial educational stage. Thanks to Yakaar I will make my dream come true".
Issa Gueye's return, after 16 years in Barcelona, is to set up a fish market; but she will also take the opportunity to "be close to my family and make up for lost time".
Mamadou Moustapha is currently 41 years old and arrived on the Peninsula in 2006, although his initial expectations were not fulfilled. Born in the city of Saint Louis, with a great seafaring tradition, he is now focused on opening a company dedicated to the sale of frozen fish. He sees the return home as a new way to start over in Senegal: "Dreams change, but we must never stop pursuing them".
Since 2009 residing in Barcelona, Ousseynou Toure, wants to return to "participate in the development of Senegal -in full phase of expansion and development-, next to my family". The objective of the fiber optic installation company is to allow you to "live with dignity. Thanks to Probitas I have this opportunity that I have dreamed so much in my life".
A future full of hope
The five scholarship holders of the program agree that the training and resources provided by the Yakaar project is a great opportunity to undertake in their country of origin and contributes to the improvement of the community. They are all very happy and proud of the step they are going to take, as well as grateful to the trainers, coaches and specialists who have accompanied them all the way.
After passing the training phase in Barcelona -in which they have defined a detailed business plan-, the African candidates will enter a second phase of implementation of their work project in Senegal. In order to materialise and consolidate the project, they have had the invaluable support of a multidisciplinary support team formed by the Servei Solidari and Eduvic (Barcelona).
Based on three pillars such as training, perseverance and accompaniment, Probitas Foundation demonstrates that there are new opportunities for youth in Senegal.
Probitas Foundation continues to work so that young Senegalese have a promising future without having to leave their country, improving the closest community in which they live and being an example and reference for other children, teenagers and adults.
Subscribe to our newsletter