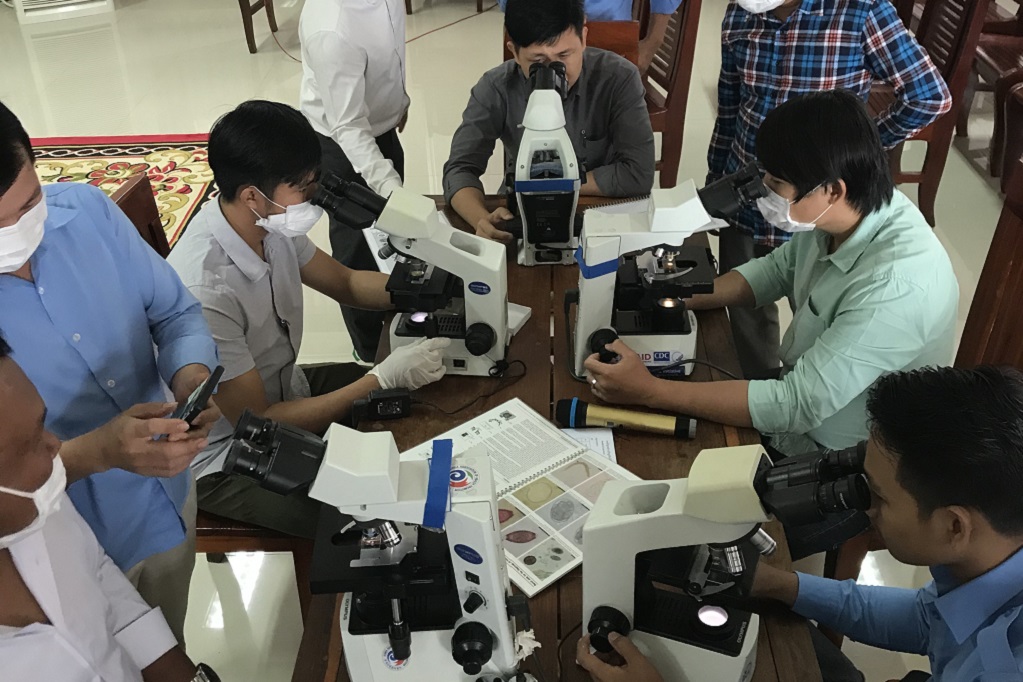 Developing capacity to monitor parasitic NTDs through Kato-Katz in Cambodia
Kato-Katz is a laboratory technique that can be very useful as a screening test or as a first step in mapping endemic areas in a country or region.

In Cambodia, the Kato Katz test was only performed nationally at the CNM. There was no capacity at the provincial level to carry out these useful tests for the surveillance and monitoring of various ETDs.

Thanks to this project, the CNM was able to carry out a Kato-Katz training for provincial and district laboratory technicians
Many parasitic NTDs are present in Cambodia, including taeniasis/cysticercosis, schistosomiasis and soil transmitted helminths.
Diagnosis of these parasites and diseases can be achieved using faecal samples and simple techniques such as the Kato-Katz test. For some infections the test is highly effective; for others such as Taenia solium, the Kato-Katz is neither sensitive nor specific, but can be very useful as a screening test or as a first step to map endemic areas in a country or region.
In Cambodia until recently the Kato Katz test was only conducted at national level at the National Centre for Parasitology, Entomology and Malaria Control CNM . There was no capacity at provincial level to conduct such tests. That made the surveillance and monitoring of several parasitic NTDs difficult and more expensive.
Now, with the support of PROBITAS FOUNDATION and WHO, CNM conducted a Kato-Katz training in December 2019 for provincial and district laboratory technicians under the leadership of Dr Virak Khieu, Manager of National Helminth Control Programme. Forty-two technicians from the Provincial Health Department, the Operational Health District, the Referral Provincial and the District Hospital of 5 provinces (Kratie, Stung Treng, Rattanakiri, Mondulkiri and Preah Vihear) were trained, so local health workers can now assist in the surveillance and monitoring of many neglected parasitic diseases.
Subscribe to our newsletter