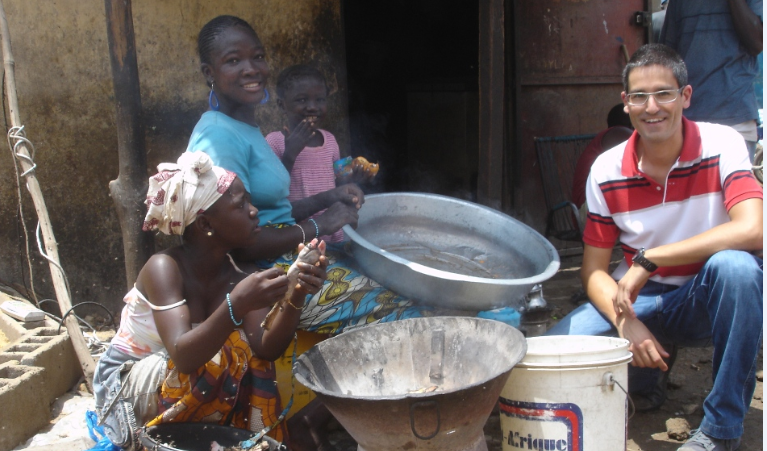 "In Mali, things, even simple ones, worked in a different way"
Miquel Iglesias, Grifols´s engineer
In my country we greet each other with a simple "Good morning", "Good afternoon" or "Good evening" depending on the time and, at the most, "How are you?" And we arrange to meet with friends to have a drink somewhere without any ritual greeting or formality. Well, in Bamako the way people say hello is something more than a simple "Good morning". On our first trip Dr. Boré, the Director of the Centre, Sr. Benoît, President of the Mutuelle, and Sr. Mariko, Mayor of the district, were waiting for us at the airport. Their greetings were very elaborate and we thought that it formed part of their politeness and general willingness to give a good impression. The next day, however, on arriving at the centre we were met with the same questions: "Good morning, how are you? Did you get a good rest? Are you very tired? How are you parents? How's the wife? Are the children well? How's your health? " It was then that we realised that we were in a different country and that things, even simple ones, worked in a different way.
Business Schools teach us that every project must have a mission and that the objective must be stated in order to follow a well-defined route. In my case, the Probitas Foundation had made me responsible for the renovation project of the clinical analysis laboratories at the Medical Centre Valentin de Pablo. The Centre is located in Bamako, the capital of Mali, and managed by the Mutuelle Benjkan Foundation.
When we arrived at the Centre we found it fully operational and privately run, in contrast to the state welfare model which, like our country, is publicly managed. The Centre is integrally managed by a local Foundation made up of people from the immediate surroundings of the neighbourhood. In the neighbourhood of Téléphone Sans Fils (TSF) the population's resources are scarce, you only have to take a turn round the neighbourhood to see it is not the wealthiest place in the capital. It is, however, well situated, at a prudent distance from the Niger River and near the new business areas and other, richer neighbourhoods.
In such surroundings it would be surprising to find a neighbourhood lacking in public services, the reality, however, is quite different. Here, the Foundation Mutuelle Benkhan was created, fruit of a local initiative by the neighbours themselves who saw the need to be better attended. With the aid of a Spanish Foundation they were able to construct a simple and functional one-story building. It is divided into different areas all of which look onto a central courtyard serving as the hub of everything that takes place in the Centre. At Bamakoo knowing what is going on in the street forms a vital part of life.
Allow me to make a parenthesis in my summary and explain the vaccination campaigns. Child vaccination takes place every Tuesday at the centre. Even now I get goose-pimples thinking of the queue of young mothers, with their children, waiting for the vaccinations. What a huge number of children! Even after so many trips, and in spite of the heat, I love to spend Tuesday mornings at the Centre in the courtyard watching the children line up for their vaccinations. Some days it is the turn of the smaller children, the babies, others the adolescents. In spite of the lack of resources I was happy not to see many cases of malnutrition. I love to watch the young mothers, some only 15 years old, look after their babies with such tenderness. If you have not been in a similar situation it is easy to be mistaken, as I was at first, and ask one of the mothers if she is holding her little sister and receive the answer: "What sister? She's my daughter!"
All this goes on in the street, protected by a small corrugated tin roof, under a sweltering sun, with only the help of a tired ceiling fan to fight off the heat. In Europe we are accustomed to spending most of our lives indoors, especially when working in healthcare, so as an engineer arriving with this mentality I could not help wanting to change the way the building is used: adapting it to our criteria. But if you keep an open mind, and stop to look at how the Centre works, you finally realise that the person who does not understand is you and that the central courtyard is the best feature of the Centre. If you are there in the evening for a chat you come to realise that that it is not only an area to vaccinate the children, but also serves as a social centre, as a meeting place for young people, and a place to assemble where decisions can be taken concerning the community and where the elders can contribute their wisdom.
As a result, it is not necessary to change things, only adapt them. We have joined two small rooms to build a bigger laboratory which has been tiled to make cleaning easier. It has also been painted white for greater luminosity and the doors and windows better sealed to control the dust. More modern equipment has been installed in order to carry out basic clinical analysis and, with the help of Joan, we have improved the diagnosis of the most prevalent diseases in the area and the quality of life of the local population.
This was the initial project. However, once we had evaluated the resources available to carry out the project, and seeing that we could do much more, we ended up renovating the birthing room, constructing a new septic tank and storage room. We have put in an electrogen group and a water deposit with a pump so that both electricity and water can be available during the frequent power cuts that occur.
Seen like this it appears simple. And it is. Or it would be if we were in Europe. Used to drawing up a plan and supervising the work according to our schedules it is difficult to understand that that no one takes notice of plans or instructions. Especially when we were told that the septic tank had sunk twice and needed to be rebuilt. And how amazed they were when told that their building methods were outdated and if they built our way, according to the project, they would finish earlier and spend less money. Often the answer was: "Here in Mali we work like this, you watch and learn."
A renovation like this should not need more than two or three months. In Mali it has taken almost a year. During these months I have been coming and going and, in the end, I have learnt a lot. I am not ashamed to say that I have learnt more from my colleagues in the Bamako project than them from me.
I have come to realise that I have to constantly improvise. Walking round the neighbourhood, something I like to do whenever I can, I have seen how it lives. Not only because the streets are full of people, but because it is in continuous movement, always changing, getting better, little by little. Its inhabitants, with very few economic resources, and without the support of the local administration which has even fewer economic resources, have managed to found a school and medical centre. Education and health: are these not the two basic pillars of our welfare state?
I have also rediscovered the wisdom of our elders. I have had the pleasure of attending some of the neighbourhood assemblies, made up principally of older people. I have learnt that they do not interrupt each other and take turns in speaking. And that a handful of peanuts can be the start of a great conversation. Elderly people have the last word. If the conversation has to take two hours then it goes on for two hours whilst respect is maintained as people come and go about their business.
I have learnt that a slow motion lifestyle is just as productive as a frenetic one. Whenever I arrive at Bamako I undergo my first stressful moment caused by the insufferable queues to obtain visas, pick up baggage and so on. But once you are through customs and have your bag in you hand life takes on a different rhythm. First of all, most of the taxis are so antiquated that they do not have safety belts. The journey from the airport to the hotel, which should take fifteen minutes, is actually half an hour. This is really a luxury as you are able to watch the city and its street life passing by. One night it even rained and you could see people showering outside by the light of a streetlamp which could not make up its mind as to whether it was dying or not.
I have learnt that children are children, here and at the other side of the world. And in the end, even if you do not speak Bambara you can make yourself understood if you try hard enough. I have also realised that perhaps we devote too much time to our children. We want to give them a perfectly controlled, safe and almost aseptic environment. In Bamako I saw children just as happy or even happier than ours playing in the street all day. I watched a boy with a slice of water melon smiling as the juice ran down his chin. The picture of his happiness reminded me of my first mango: it had just been picked and was ripe to eat. I remembered the juice running down my face. And I was happy.
Subscribe to our newsletter