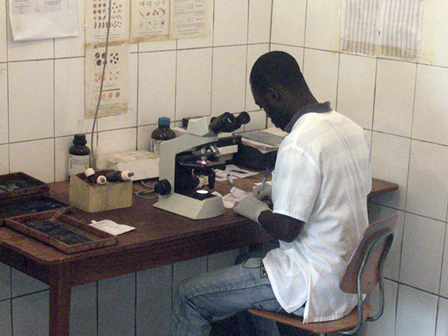 Global Laboratory Initiative Kubal-Angola
In December 2016, a collaboration agreement was signed between "Fundació Hospital Universitari Vall d'Hebron-Institut de recerca (VHIR)", "Nossa Senhora da Paz de Cubal" Hospital and Probitas Foundation, within the framework of the GLI program ("Global Laboratory Initiative"), with the aim of strengthening the capacities of the clinical diagnosis laboratory in Cubal (Angola).
This project, currently in its last phase, is intended to improve the diagnosis, treatment and correct follow-up of prevalent diseases in the area (TBC, HIV, Malaria, soil transmitted helminthiasis , Schistosomiasis, etc.), as well as improving the organization of the laboratory for a correct staff management and a rational use of resources.
The project also includes the training of laboratory technicians and residents in order to update them in diagnostic techniques and thus guarantee an improvement in the quality of the laboratory results.
Likewise, the GLI-Angola has been a pioneer in the installation of a mobile solar system that aims to cover the laboratory electrical consumption in a self-sufficient way.
This initiative is the first one that is being implemented within the framework of the GLI program as a pilot project for future actions.
Subscribe to our newsletter