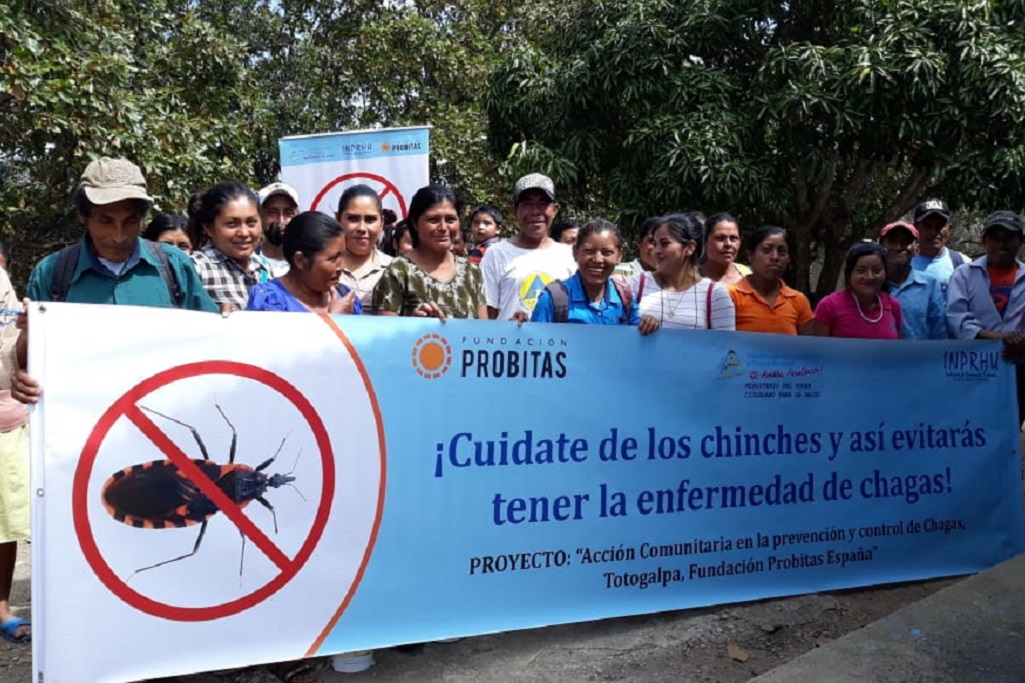 A project to combat Chagas, supported by the Probitas Foundation, ends in Nicaragua
The project, was implemented in 20 Communities of the Municipality of Totogalpa, Nicaragua

Capacity training for 80 community health agents for epidemiological surveillance has been carried out.

An information, education and communication campaign was implemented to promote health in the communities.
The project, executed by the NGO INPRHU Somoto, was implemented in 20 Communities of the Municipality of Totogalpa, having as collaborators the Ministry of Health (MINSA), cabinets of the families of each community and the municipal mayor's office. The purpose was to contribute to the improvement of the living conditions of families in 20 communities by establishing a community entomological surveillance program, strengthening the capacities of health personnel and carrying out an IEC campaign for health promotion and education.
For a year INPRHU has worked in the 20 communities strengthening the Entomological Surveillance Program. At the beginning of the project, only 5 communities reported the presence of the vector bedbug, after the training of the brigadistas, they are sending the bedbugs to health posts and the Health Center to check if they are infested with the parasite and, therefore these are bed bugs with the possibility of spreading the disease.
At the end of the project, the population of the communities has improved in the recognition of the symptoms of the disease, its transmission mechanism, and they can identify the vector bedbug. Furthermore, through home visits, behavioral changes have been promoted in all the factors that affect the presence of the vector and the prevention of the disease. Thus, there has been an impact on the presence of animals in the house and the cleaning of the areas with animals near the homes (chicken coops, pigs, etc.), and an increase on the repair of the cracks and fissures in the house in which the bed bugs and other environmental hygiene measures. The 100% of the families were visited by the promoters and technical personnel, with the support of the Ministry of Health personnel.
Likewise, capacity building has been carried out for 80 community health agents for epidemiological surveillance and implementation of the Combi Plan in the prevention and control of Chagas. The training agenda was: Main factors about Chagas disease, etiology, phases of the disease, transmission mechanism, prevention and control actions, entomological surveillance, epidemiological surveillance, procedures of the national Chagas prevention and control program, home visits, the FECSA methodology (Family, School and Healthy Community) in promoting behavior change for home hygiene, solid waste management, vector control and how to fill out a family file while visiting homes to promote behavior change.
INPRHU has coordinated and executed the activities, always ensuring the involvement of the communities and health authorities in the project.
In 2021, as it has been doing for years, the Foundation will continue to support projects to fight Chagas disease, one of the neglected tropical diseases causing the highest mortality in the South American continent.
Subscribe to our newsletter