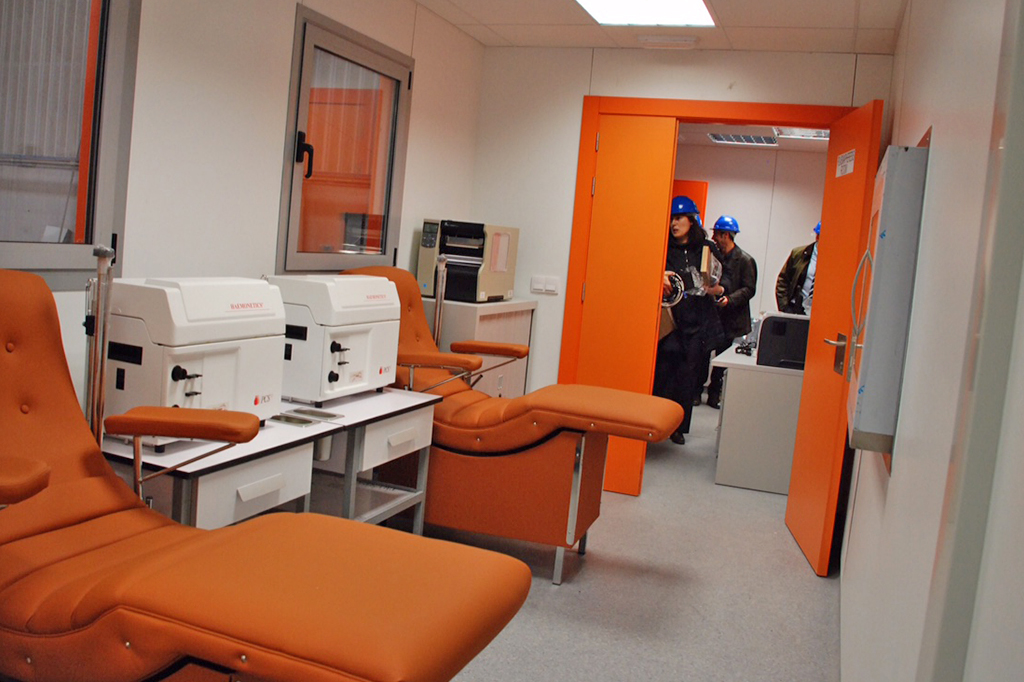 The Probitas Foundation, in collaboration with Grifols, backs the Ebola Project in Liberia
The
Probitas Foundation
, in collaboration with the Ministry of Health and Social Welfare of the Republic, and with financial support and technical assistance provided by the
different companies of the Grifols group, are backing a project
that altruistically contributes its knowledge and experience to the design, construction and installation of a modular plasmapheresis unit
in Monrovia for voluntary plasma donation by previously tested Ebola survivors
, with a view to producing immunity to Ebola. The modular unit will be owned by Liberia's Ministry of Health.
The Ebola project in Liberia
As part of the programme a Polymerase Chain Reaction PCR will be set up and put into operation capable of performing molecular biology diagnostic techniques. This PCR will be located at the Saint Joseph Hospital in Monrovia, which belongs to the Orden Hospitaliaria de San Juan de Dios, and
hospital staff will be trained to acquire the necessary skills to ensure the sustainability of the unit's operational capabilities
.
In parallel,
the programme provides comprehensive support to the communities most affected by the epidemic
, especially survivors and families, in collaboration with the local Afromedical Community Health and Welfare Services (ACHWS) and Save The Children.
Probitas has registered 500 survivors of the Ebola
virus that have turned out to donate plasma, with several hundred people having been deemed apt for donations.
More than 2,000 people in affected communities have received direct support from Probitas
in the form of food and medical care, among other services.
One of the factors that spurred Grifols and the Probitas Foundation to build a plasma donation centre in Ebola-affected countries, such as Liberia, is the geographic dispersion of the virus that struck between 2014 and 2015, and also the difficulties involved in transferring donors and/or plasma across borders.
The use of plasma from Ebola convalescents is considered viable, as it contains antibodies that perform an immunological therapy function for patients still affected
. Once plasma-rich antibodies have been successfully tested, they can inactivate the virus or can be processed to obtain immunoglobulins G (IgG). It is estimated that
the centre will have the capacity to manage 84 donations a week
, equivalent to 42 litres of plasma.
The role of the Probitas Foundation in the execution of the project is to contribute to the management of local and international contacts
. It also sees to the launch of the project, and all the follow-up.
A study recently published by the
scientific journal Cell
reveals that
the plasma of people surviving the disease may contain antibodies effective at neutralising three different strains of the Ebola virus
. Experts in the field of Medicine point out that, although it is an advance, and it is possible that a drug can be developed with a mixture of these antibodies, it will take a while for this to be effective.
The epidemic
The Ebola virus first hit in 1976, in Nzara (now South Sudan) and Yambuku (in the Democratic Republic of the Congo). However, the major crisis of the virus occurred between 2014 and 2016 in Sierra Leone, Guinea Conakry and Liberia. The epidemic affected 28,616 people, of whom 11,310 died.
Subscribe to our newsletter