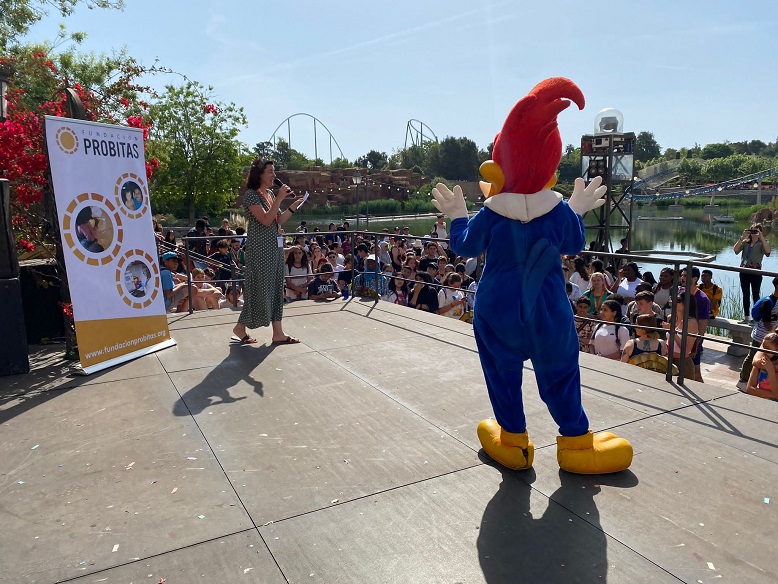 Dinem Junts travels to Port Aventura
360 young people in vulnerable situations from the Dinem Junts program of the Probitas Foundation end a month of activity on food waste and have created the image for next year's program.
On Saturday 21 May, 360 adolescents from the Dinem Junts program, which aims to improve the nutrition and health of adolescents at social risk, offering them social and educational support in a protective environment, travelled with 45 social educators to Port Aventura.
This excursion put an end to a month in which the children, from 28 secondary schools in Catalonia, have been working in groups various activities. On one hand, they addressed food waste by collecting daily the weight of food and the liters of water that they all throw away at the end of the mealtime. In addition, during this period the young people reflected on and worked in groups on issues such as food waste, knowledge of food for a balanced diet, sustainability and the environment or individual and collective responsibility.
On the other hand, Probitas Foundation has launched a poster contest to choose the image of the program for the next academic year 2022/2023 with the aim of promoting participation, creativity and the feeling of belonging among the young people who are part of Dinem Junts. On Saturday, on their arrival at Port Aventura, the winning poster was announced.
Dr. Anna Veiga, general director of Probitas Foundation has highlighted "the importance of carrying out leisure activities like the one on Saturday with these young people to foster cohesion and the sense of belonging to the program, as well as raise awareness of food waste".
Dinem Junts is a pioneering program that responds to the situation in which many families found themselves since the implementation of the continuous school day in secondary schools in the 2012/2013 academic year. Since its launch, in the 2014/2015 academic year, we have helped more than 800 teenagers from Catalan secondary schools.
Subscribe to our newsletter