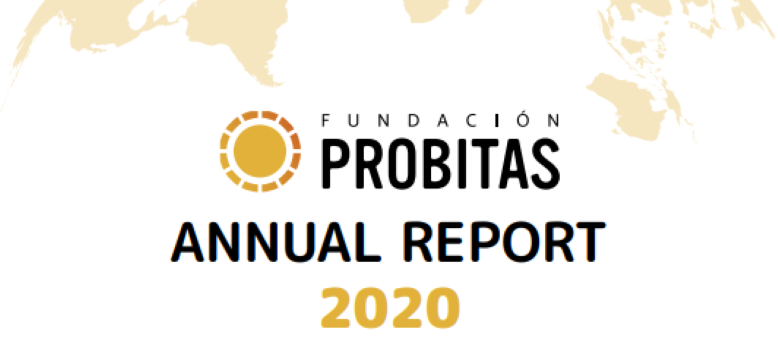 Fundación Probitas' programs have contributed to improving the quality of life of more than 640,000 vulnerable people
The activity has been developed locally in 95 municipalities of Spain and at the international level in 26 countries with precarious health systems.
Fundación Probitas publishes its 2020 Report, which describes its activities in "a year of great challenges due to the impact of the pandemic throughout the world", as stated by its managing director, Dr. Marta Segú. Even so, the Foundation has kept all its programs active, both local and international, adapting them to the circumstances marked by the health situation.
Locally, the RAI (Child Nutrition Support) and SIT (Health, Innovation and Therapies) programs have remained active, with a focus on the health and nutrition of the most vulnerable children. At the international level, the GLI (Global Laboratory Initiative) and the PCI (International Cooperation Program) continued to be implemented, with the aim of improving health in countries with precarious health systems.
The second edition of the Yakaar scholarships has also been launched to improve opportunities for migrants from Senegal so that they can return to their country in a safe and dignified manner.
Marta Segú points out that "we are entering a new phase in which we have decided to give priority to those projects that most directly affect people's fragility, while at the same time establishing new alliances to strengthen our direct action on social vulnerability".
For all of this, Fundación Probitas has received 6.2 million euros in funding, 88% of which has been allocated entirely to its programs, as well as to collaborations with other entities. The foundation receives 0.7% of Grifols S.A.'s annual profits, which are donated by the company's shareholders.
In addition, in 2020, the Twin Families initiative was launched, a program to raise funds to contribute to the school meal support program, which is so necessary in the current context of child poverty exacerbated by the pandemic. More than 1,000 Grifols employees joined the initiative and donated the proceeds from their Christmas lot to help disadvantaged families.
Commitment to the SDGs
The document also highlights the Probitas Foundation's commitment to the United Nations 2030 Agenda and the Sustainable Development Goals, with a particular focus on nine of them, divided according to the Foundation's degree of contribution: priority, which includes SDG 2, SDG 3 and SDG 10; relevant, which includes SDG 4, SDG 6 and SDG 7; and cross-cutting, which includes SDG 1, SDG 5 and SDG 17.
In any case, "although we work more actively on some of the Sustainable Development Goals because of our activity, we are fully committed to the implementation of all of them in all sectors of activity and throughout the world. Alliances are the key to developing a more egalitarian and sustainable society", assures Dr. Marta Segú.
Access to the 2020 Report here.
Subscribe to our newsletter