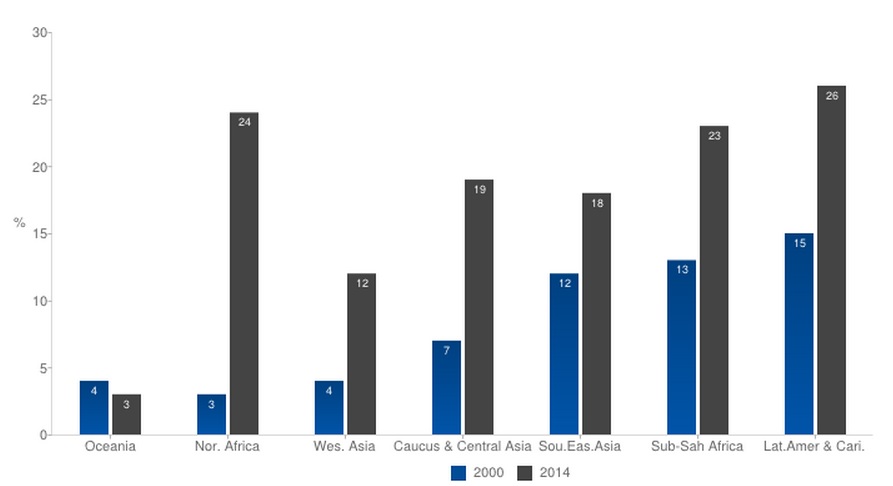 8 resources to assess the degree of fulfilment of the 8 Millennium Development Goals
The Millennium Development Goals (MDG's) are international development milestones that 192 United Nations member states and at least 23 international organizations agreed to fulfil by 2015. Very little time is left before this date is here, so to what extent have the MDG's been fulfilled?
In this article, we wish to recommend 8 online resources which can be used to assess the degree to which the Millennium Development Goals have been fulfilled.
MDG 1: To eradicate extreme poverty and hunger.
Poverty and hunger are still a reality around the world. The objective of the Millennium Development Goals was to lower the percentage of people who live on less than €1 per day by half between 1990 and 2015. For this reason, we recommend watching the Red Cross's video – on its website with educational recommendations on the Millennium Development Goals – entitled "How One Lives on less than €1 per day," in which children from Nicaragua explain what their day to day lives are like with this family income.
MDG 2: Achieve universal primary education.
This goal aims to ensure that all children can complete primary school. Even though huge strides were made in this terrain in the past decade – the percentage of children attending school reached 90% in developing countries – progress in lowering the number of children who do not attend school has dropped considerably. For further details, see this study from the United Nations Development Program (UNDP).
MDG 3: Promote gender equality.
Here the importance lies in the empowerment and capacity of women to participate in their country's politics. According to the UNDP, women's participation is steadily rising, mainly because of a quota system. A graph will help us to see this evolution.
Proportion of seats occupied by women in the chambers (lower or unicameral) of the national parliaments, 2000 and 2014:
Legend: Source: MDG report 2014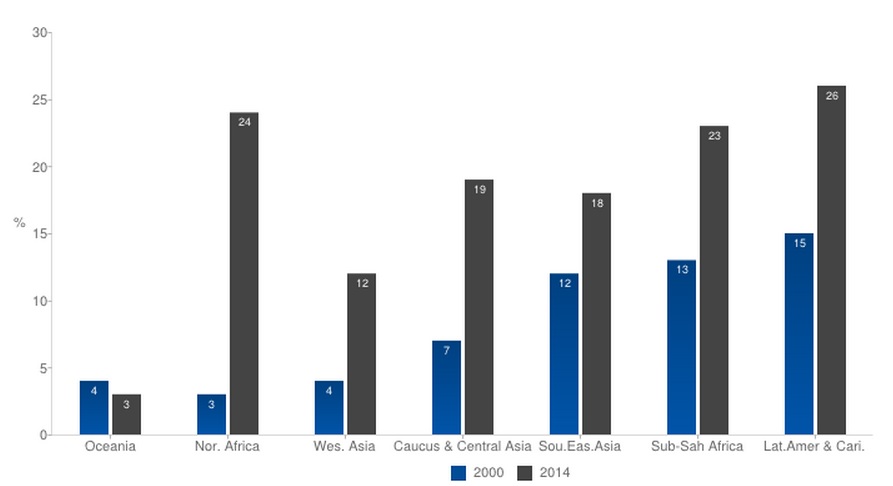 MDG 4: Reduce child mortality.
The purpose of this goal was to lower the mortality rate of children under the age of five by two-thirds. In this case, we can provide a figure from UNICEF as part of the GLI-Peru project: the country has achieved the MDG of lowering the child mortality rate to under 17 per 1,000 live-born children. Despite this, there are still huge inequalities between urban and rural areas, especially in the communities in the Peruvian Amazon, where the project is being conducted.
MDG 5: Improve maternal health.
The fifth goal aimed to lower the maternal mortality rate by three-quarters. Since 1990, the maternal mortality rate has declined by almost half. Therefore, this goal will not be achieved. However, to find out how it is working in different places, we recommend this article by the Department of Public Information of the United Nations.
MDG 6: Combat HIV/AIDS, malaria and other infectious diseases.
There are still too many new cases of HIV and a high incidence of other serious diseases, such as Ebola, malaria and others. In this article, the World Health Organization (WHO) reports on a rise in the number of people infected by AIDS, Ebola and tropical diseases such as dengue fever. However, the number of cases of tuberculosis and malaria has dropped thanks to the application of successful strategies.
MDG 7: Ensure environmental sustainability.
This is a complex goal which spans everything from including sustainable development principles in national political programs to slowing down the loss of biological diversity by 2010 (not achieved), to improving the quality of life of the inhabitants of marginal neighborhoods, to lowering the number of people with no access to water by half by 2015. With regard to this goal, we recommend this UN video – one of the "UN Stories" on the organization's YouTube channel – on the programs that seek to improve access to water in Katikati, a town in the north of Tanzania.
MDG 8: Develop a global partnership for development
This is another far-reaching goal: to develop an open financial and commercial system, to deal with the needs of the less advanced countries, to deal with these countries' external debt, to provide them with access to essential medicine, to provide young adults with decent and productive jobs, to take advantage of the benefits of the new technologies… On this point, you can read the different critical analyses by Pepe Avilés, a local Manos Unidas partner in Chiapas.
An extra resource, in case at this point you are wondering "Why are the MDG's important and why are we lagging behind?" is a fascinating reading on the UN's Millennium Development Project.
CTA: What do you think about the degree to which the MDG's have been fulfilled? Would you like to share any other resources? Please do so in the comments!
Subscribe to our newsletter