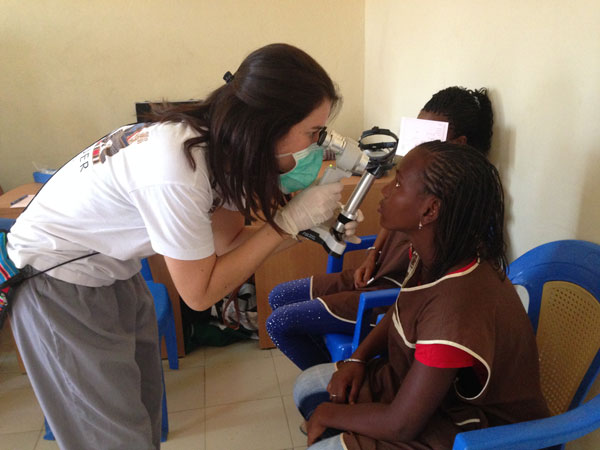 Opening people's eyes in Senegal
Probitas and the Barraquer Foundation have cooperated for the first time on an eye health program in the town of Richard Toll

The first expedition treated over 1,180 people, with a follow-up mission being prepared for 2015 to operate on cataracts and other eye conditions
The town of Richard Toll is located in the Saint-Louis region in the north of Senegal, 225 miles from the capital, Dakar. The majority of its 130,000 inhabitants live in precarious conditions, with limited access to education and healthcare.
Probitas Foundation and the Barraquer Foundation have joined forces to implement an ophthalmological campaign to improve the eye health of the inhabitants of Richard Toll, where Probitas has already conducted another partnership project with Association de Lutte contre la Vulnerabilité et l'Exclusion sociale (ALVES), designed to improve access to healthcare, education and food security for the most vulnerable families.
The first campaign was conducted from October 25 to November 2, 2014. A team of four people – two ophthalmologists and two optometrists from the Barraquer Foundation – visited Senegal with twin objectives: "To test people's sight in order to prescribe glasses, and to screen the population to identify the number of people requiring surgery," says Dr. Paola Sauvageot, one of the ophthalmologists in the Barraquer team.
Probitas Foundation provides funding for the expedition and is responsible for coordinating with local authorities, the hospital and local schools, while the Barraquer Foundation supplies the human resources, experience and materials needed to make the project a reality. The first expedition focused primarily on detecting eye conditions in adults and children, and providing prescription glasses for all who need them. As a result, hundreds of children and young people will be able to read the chalkboard and follow their classes properly. Many of them may have been unaware that their eye condition was easy to treat with prescription glasses. Preparation is already well under way for a second mission, due to be conducted during 2015, that will provide operations both to treat cataracts detected during the first visit and to resolve additional cases diagnosed in the field.
The problem in this region of Senegal is that the numbers just don't add up. Paola Sauvageot points out that the district only has one ophthalmologist to serve the needs of the entire population. Given this scenario, it is hardly surprising that "cataracts end in disaster, ruining people's lives and destroying the education and employment opportunities of people for whom life has always been a struggle." For those living in conditions of social vulnerability, simply surviving daily life in an African country is already a huge challenge, and going blind and becoming unable to contribute to the family economy leads to marginalization and exclusion.
"In the developed world, cataracts never lead to blindness because we operate before that stage is reached," explains Cristina Vila, one of the two optometrists from Clínica Barraquer who took part in the campaign. The situation is very different in developing countries, where there are many cases of "cataracts in advanced stages, which are very hard and very opaque," but which are still operable, Paola Sauvageot tells us. During the initial five-day campaign, the Foundation's staff examined many patients with cataracts, glaucoma and serious allergies. "These allergies were easily curable by administering eye drops."
The aim of this program is to give back hope to the many Senegalese who have lost their sight, to restore their capacity to contribute to the upkeep of their families, and to improve their quality of life. During the five-day ophthalmological mission, eye care professionals have, free of charge, restored or improved the sight of 1,183 individuals who might otherwise have become victims of blindness. They also prescribed and distributed 250 pairs of glasses to children and young people suffering from short- or long-sightedness. A number of local associations in Richard Toll contributed to the mission, as did the Senegalese Red Cross. For a week, the expedition traveled around to perform eye examinations in schools and other community centers, giving patients with eye conditions the chance to have their sight tested, and offering them light at the end of the tunnel.
Paola Sauvageot summarizes this first ophthalmological mission as a week characterized by a heavy diagnostic workload, limited medical risk and many positive outcomes. The next step is the surgical expedition. "Cataracts are aggravated by hygiene conditions and a shortage of local professionals to conduct eye examinations," explains Cristina Vila. If eye conditions that start during infancy are not treated early, they become more complicated as the patient reaches maturity. "As a result, they can go blind if they never have access to an ophthalmologist," she tells us, explaining that this is an example of the collateral damage caused by a lack of general medical care. This shows the importance of offering prevention and training programs for the country's health professionals, to enable them to look after the local population.
Paola and Cristina told us how, from the first day of the campaign, long lines of people formed as they patiently waited to be seen. It was the first time many of these people had attended a health center for an eye examination. This partnership program between the Probitas Foundation and the Barraquer Foundation has enabled over a thousand Senegalese people living in remote, rural areas to recover their sight and to improve their quality of life.
Subscribe to our newsletter