Fight against trachoma in the Bankass district (Mopti region): building a future for the children of Mali
The project will be implemented with the participation of local and national partners. Its objective is to contribute to eliminate trachoma in this district by implementing the SAFE strategy in two school groups, achieving as outcomes both surgical care and antibiotic treatment of the cases detected, reinforcing personal hygiene and accessibility of drinking water.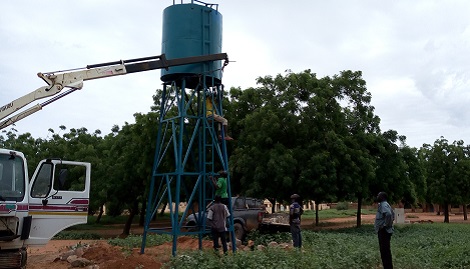 CONTEXT
Trachoma is endemic in Mali. It is one of the main causes of preventable blindness and constitutes a public health problem. After the implementation of the SAFE strategy in 1998, the prevalence of the disease decreased considerably; however, in some areas of the Mopti region, such as the Bankass district, the prevalence of active trachoma is still 1.4% in children aged 1 to 9 years, the highest in the región.

PROJECT
Activities:
- Organize campaigns in school groups to identify students with trichiasis and / or refractive problems: ophthalmic medical assistants will review students to detect cases of trichiasis and refer them to surgical intervention. Visual acuity will also be measured, and they will be referred to a specialized visit when necessary.
- Eye care for students with active trachoma: those students who are carriers of trachoma will receive antibiotic treatment.
- Hold talks on trachoma and equitable access to eye health in school groups: there will be talks on trachoma and fair access to health.
- Carry out a teacher training workshop on basic eye hygiene with a gender focus: teachers will be trained on basic eye hygiene including a specific thematic axis on equitable access to eye health.
- Construction and rehabilitation of wells in school groups in the Bankass district: a well will be built in one of the school groups, and the existing well will be rehabilitated in another of the groups.
- Rehabilitation of defective latrines in Bankass district school groups: defective latrines will be rehabilitated in school groups as part of environmental improvements in the fight against trachoma.
The objective of this intervention is to contribute to the elimination of trachoma in the Bankass district by implementing the SAFE strategy in two school groups (group of schools). The implementation of this strategy will benefit 2,000 girls and boys: surgical care and treatment with antibiotics will lead to the cure of those boys and girls with active trachoma, as well as the prevention of contagion to their relatives and people in their environment; and improvements in infrastructure will generate the necessary hygienic conditions to avoid new cases of trachoma.
The expected outcomes are as follows:
Outcome 1: Surgical care of all diagnosed trichiasis cases carried out.
Outcome 2: Pharmacological treatment is administered to all students with active trachoma.
Outcome 3: Reinforced basic personal hygiene and eye cleaning for children and teachers in school groups.
Outcome 4: Increased accessibility of drinking water in school groups
BENEFICIARIES
The direct beneficiaries will be 2,000 students from two primary school groups in the Bankass district, aged between 5 and 14 years. At least 50% (1,000) will be girls. The choice of groups will be made first by a size criterion (min. 1,000 students); secondly, due to the willingness of the Educational Animation Centers to collaborate (support structure for teachers), and thirdly due to the security context.