The provisioning of the furniture and medical equipment necessary for the property functioning of the new Maternity building in the Guiba health area in Burkina Faso
The Ajuda'm a viure foundation, in collaboration with the Centre de Santé et de Promotion Sociale de Guiba, launch a project to improve child/maternal health care in the region of Guiba, in the province of Zoundweogo, located some 80 km to the south of the capita of Ouagadougou, in Burkina Faso.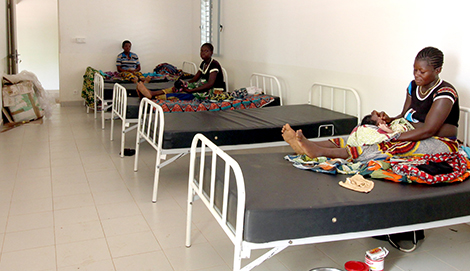 CONTEXT
Burkina Faso is one of the poorest countries in the world. It has a population of 17 million people. Subsistence agriculture is the main economic activity, barely able to meet basic human needs.

Guiba has a Dispensary and Maternity unit, which serves a population of 9,392 people (data from the 2016 Guiba Health Plan) in the seven communities that make up the Guiba health area, within a radius of about 15 km.

PROJECT
With the aim of improving maternal health and care for newborns, the project will focus on the rehabilitation of the Maternity building, under the direction of Catalonian architect Albert Faus. The phases encompass building better facilities, equipped with water, expanding the postpartum rooms, with a capacity of up to eight women, and creating a patio linked to this room for the women in the community that care for and accompany midwives. In a second phase the building will be equipped with the materials and furniture necessary for its proper functioning.

The project is expected to increase the number of pregnancies monitored and deliveries taking place in an adequate healthcare setting, resulting in the enhanced detection of possible risks, and patients being routed to higher health levels, thereby improving maternal and child morbidity and mortality rates.

BENEFICIARIES
The direct beneficiaries are 4,140 people, of whom 3,507 are women of childbearing age, and 628 newborns and children under one year old. Also included are the eight Maternity workers, of whom three are women.

The indirect beneficiaries are the estimated 10,868 people making up the population of the seven communities served by the health centre, within a radius of 15 km.