The promotion of intercultural institutional delivery within the framework of public policy related to Public Health in two inter-Andean Quechuan municipalities of Bolivia
The project aims to reduce the maternal and child mortality rates in two Quechuan inter-Andean municipalities (Vila Vila and Alalay) in Cochabamba, Bolivia. The entity will collaborate with a local partner in Bolivia: Aynisuyu.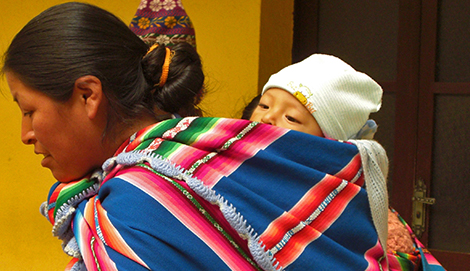 CONTEXT
The population in the project's work zone is entirely made up of indigenous (Quechuan) peasant women, men, girls and boys living in the rural area of one of Bolivia's most impoverished regions, the Southern Cone of Cochabamba. The total population of the two municipalities comes to 8,946 people, distributed in 62 communities and 2,236 families.

Maternal mortality in Bolivia in 2011 stood at 160 deaths per 100,000 live births for the national average, and 188 on average in the Department of Cochabamba, the rural area being where the institutional coverage of childbirth was lowest (in the municipalities of the project, 33% in Alalay and 47% in Vila Vila).

PROJECT
The project aims to promote intercultural institutional childbirth within the framework of Intercultural SAFCI Community Family Health Public Policy in the two cited municipalities. To this end, the following activities will be carried out:
Workshops with women's organisations to identify barriers and devise proposals.
Training workshops and accompanying community health authorities in their functions.
Training workshops for health personnel on the principles of interculturality in childbirth care.
Exchanges of experiences in the implementation of intercultural deliveries.
Accompaniment of traditional midwives as part of Ministry accreditation, and emphasis on it in the Municipality for its incorporation at health centres.
Delivery room outfitting in accordance with intercultural adaptation.
Dynamisation of Municipal Health Councils as multi-actor deliberation and advocacy forums - Municipality, health sector and civil society - and support for women, and the institutionalisation of intercultural delivery through the allotment of public resources.
Through the different actions that will be carried out, the aim is to reduce the high maternal and child mortality rates prevalent in the municipalities affected by the project, through the strengthening of organizational and community capacities and the bolstering of the public health sector for the incorporation of interculturality in childbirth care; and, finally, thanks to the improvement of municipal forums for deliberation, consultation, monitoring and accountability, in which women's demands are incorporated into municipal budgets.

BENEFICIARIES
The direct beneficiaries of the project are 4,022 women of childbearing age in both municipalities. In addition, it will work directly with 1,630 people, both women and men, community health secretaries, medical-sanitary personnel, and technical personnel from both town governments.

The indirect beneficiaries are 8,946 people, who constitute the total population of both municipalities.