The prevention of tropical diseases in impoverished areas of northern Santiago, Dominican Republic
The project aims to contribute to the improvement of health and the prevention of tropical diseases in poor districts in the province of Santiago de los Caballeros, in the Dominican Republic.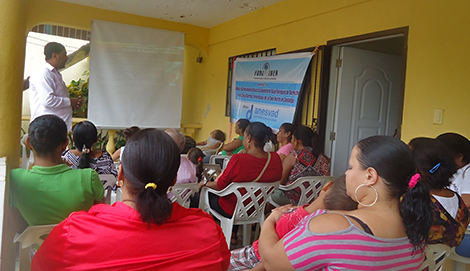 CONTEXT
The province of Santiago is made up of nine municipalities, 16 municipal districts, 115 sections, 907 parajes, 191 neighbourhoods, and 500 "sub-neighbourhoods." According to the IX National Population and Housing Census, from 2010, the province of Santiago had a population of 963,422 in that year.

The country invests little in social policies, including health. With investment levels of around 2% of GDP, health services are extremely poor. The prevalence of tropical diseases stands at 32%, with cases reported of malaria, dengue, cholera and tuberculosis. Dengue features the highest recurrence rate, in 17% of cases.

PROJECT
The program aims to provide health care and prevent the most recurrent tropical diseases in the three most marginalised neighbourhoods in northern Santiago. To achieve this, activities will be undertaken in three different areas:

1.

Education, Awareness and Access to Health
This component will feature actions aimed at promoting the prevention of tropical diseases. The activities to be carried out in relation to the component include:
Workshops on health and prevention
Talks/conversations on topics related to tropical diseases
Flyers and posters.
Community health facilities
Medical operatives
The identification of patients with tropical diseases in hospitals
2.

Environmental sanitation
In the execution of the initiative this component will seek to promote actions aimed at improving the surrounding environment, creating healthy spaces that prevent disease and its spread. Hence, the main actions to be implemented are:
Environmental sanitation and cleaning workshops
Fumigation and water chlorination workshops
Talks on hygiene and health
3.

Community organization and institutional relations
Based on this component, we will back the following activities:
The creation of health and environmental committees
Following up on health and environmental committees
Inter-institutional meetings with the city governments of Santiago and San Francisco de Jacagua; the Ministries of Health, Education and the Environment; Neighbourhood Boards, and FUNDLIDER.
BENEFICIARIES
The direct beneficiaries are 2,114 people in three marginalised urban districts in the northern region of the Province of Santiago, who live in extreme poverty, suffering great precariousness and socio-health problems.

The indirect beneficiaries are 38,000 people living in the northern part of the Province of Santiago. They have the same characteristics mentioned above. Though lying outside the scope of the three direct beneficiary neighbourhoods, they will receive some indirect benefits.