Strengthening the community health system in Kasai, Democratic Republic of the Congo
In four villages in the province of Kasaï; Bangombe, Bulape, Kanyinganyinga and Luebo-Mishnyi the aim is to strengthen the local health system, efficiently manage neural tube defect cases, including leprosy, thus improving the state of health of the affected men, women, and children.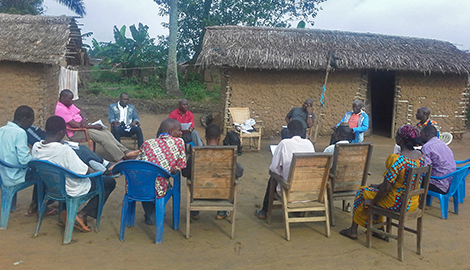 CONTEXT
The province of Kasaï has 3.2 million inhabitants, many of whom are in remote communities where extreme poverty is common. Since independence in 1960, the Democratic Republic of the Congo (DRC) has experienced a political situation characterised by great instability. Its National Health Policy was approved in 2001 and focuses on primary care. Given the structure of international aid, the largest part is for the selective control of the disease, leaving the field of health with fewer resources.

PROJECT
In order to achieve the stated aims a series of activities will be carried out, among which should be highlighted:
Provide training to 24 health centre and management team nurses in terms of diagnosis, treatment and quality data collection.
Support the follow-up and monitoring of the disease, as well as managing disability.
Monthly monitoring meetings in the central health office.
Develop, produce and disseminate tools for raising awareness of leprosy and neglected tropical diseases (NTDs) in collaboration with Committee members.
Enable the training of 20 health committees, 20 community leaders and 40 health workers to identify and refer cases of leprosy and neglected tropical diseases (NTDs) to health centres.
Carry out 12 awareness campaigns about leprosy and lymphatic filariasis.
Carry out four active screening campaigns (active search for cases).
It is expected that some outcomes of the project will be:
28 health professionals of the selected villages with the ability to efficiently diagnose and manage cases of leprosy and lymphatic filariasis, both in men and women.
Improve four health centres in terms of response and providing deworming drugs in these four areas of KasaEnable 80 local communities to enhance the knowledge and skills to detect and refer leprosy and lymphatic filariasis.

BENEFICIARIES
The number of direct beneficiaries is 1,038 people, of whom 359 are women and another 335 under the age of 15.

In terms of indirect beneficiaries, this could be up to the 38,875 inhabitants comprising the population of the different areas where the project will be carried out.