The implementation of activities related to water, sewerage and hygiene in Lebanon
Oxfam has been working on the implementation of activities related to water, sewerage and hygiene in Lebanon since the beginning of the crisis in Syria (WASH). All the WASH programs have a strong grassroots component, in line with Oxfam's strategy for all its projects and in agreement with the expected impact for displaced populations over lengthy periods of time. The final objective is to provide safe access to WASH services at both community and domestic levels.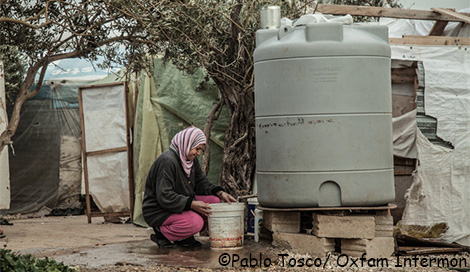 CONTEXT
Oxfam has been in Lebanon since the 1970s providing humanitarian aid together with local entities for long-term development. Following the breakout of the crisis in Syria in March, 2011, Lebanon was seriously affected at political, social and economic levels. Five years later, the repercussions of the crisis, far from receding, have increased. Currently, Lebanon has the greatest number of refugees per capita in the world: 1 out 5 people is a refugee; this has meant that the population has increased by 30%. The refugees, most of whom are older than 18 years, are dispersed among more than 1,700 locations throughout the country. At an official level there are no refugee camps for this population in Lebanon; they have created their own improvised ones leading to issues over land ownership, access to basic services, and inflation in the cost of staple foods. In spite of international efforts, funds remain insufficient to satisfy the requirements of the whole refugee population.
EXPLANATION OF THE PROJECT
Lack of income, together with the absence of infrastructures, has affected the capacity of the refugees to correctly access WASH services. Moreover, most of the refugee settlements depend on humanitarian actors to provide adequate WASH facilities. In general, few entities manage to supply such services due to the government refusing to allow the construction of permanent structures for the refugees.
In response to this need, Oxfam is presenting in this project its experience in the zone during the last three years. The project is focused on an intervention created to cover WASH necessities at mid and long-term for the Syrian refugees inhabiting the informal camps of Bekaa del Norte. It aims to reduce the current dependency of the humanitarian organizations by reinforcing their capacity for self-sufficiency and boosting their resilience.
To do so, the informal settlements will be provided with the adequate WASH structures, subsequently, the residents will be supplied with the tools and necessary spare parts for their maintenance, and, finally, suitable individuals will be trained to ensure the long-term sustainability of these infrastructures. Latrines, water points, and laundries will be constructed.
BENEFICIARIES
The total number of beneficiaries will be 4,885 Syrian refugees who are presently living in informal settlements in Bekaa del Norte; specifically, 134 settlements located in the municipalities of Chlifa, Haouch Barada, Haouch Tall Safiyeh, Dier el Ahmar, Haour Taala, Btedaai, and Jebaa.