The construction of six potable water wells in six villages in Burkina Faso
Aigua pel Sahel launches a project in collaboration with two local entities: the Assotiation Kobinkale and the Association pour la Paix et la Solidarité, which aim to build potable water wells in six rural villages racked by many deficiencies, suffering from a lack of potable water and high infant mortality rates due to waterborne diseases.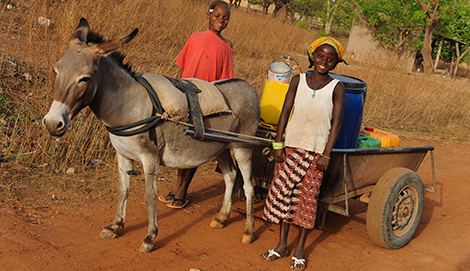 CONTEXT
Burkina Faso is a landlocked West African country with limited natural resources, an economy heavily dependent on cotton exports, and one that is highly vulnerable to natural disasters. Its climate is Sahelian, characterised by an average rainfall of 300 mm/year, with a dry season from October to April and a rainy season from May to September. Water is a constant cause for concern, and the population suffers from a misallocation of resources. During the dry season water is very scarce, whether for agricultural and livestock-related use, or for human consumption. This entails food scarcity (a single annual crop) and health problems.

The absence of drinking water leads to waterborne diseases, which are the second leading cause of child mortality in the world. These include acute diarrheal diseases and gastroenteritis caused by viruses, protozoa and bacteria, leading to death by dehydration, especially in children ages 1 to 5.

Droughts are becoming more common, and water supply services in many areas are inadequate.

PROJECT
In Burkina Faso there are three million people who lack access to safe drinking water, and every year 2,800 children under the age of five die of preventable diarrheal diseases caused by poor water quality and sanitation. To address the situation, increasingly characterised by droughts and inadequate water supply services in many areas, the project focuses on awareness-raising activities for the population, identifying sites for well construction and the preparation of the land, as well as drilling, pump placement and microbiological testing.

The entity also engages in training in hygienic habits, and monitors and evaluates the different phases of the project.

The aim of the programme is to reduce the rates of waterborne and water-related diseases, as well as infant mortality, and to increase leisure and income-generating activities for women.

BENEFICIARIES
The total number of beneficiaries is 8,500 people. Direct beneficiaries include the 2,500 women and girls from the six rural villages, as they will have potable water less than 1 km way (they currently have to travel up to 5 km), carrying some 20 kg.

The indirect beneficiaries are men, ages 15 to 65 and older. They take care of work in the fields, and the animals. With the construction of wells the animals will have access to water, as they are built including water troughs, with the surplus water being used for the animals.