The consolidation and implementation of the participatory model for prevention, research and training regarding Chagas disease in Bolivia
Ayuda en Acción's project aims to contribute to improving the health status of the population most vulnerable to Chagas disease, in districts 6 and 7 of the municipality of Sucre in Bolivia.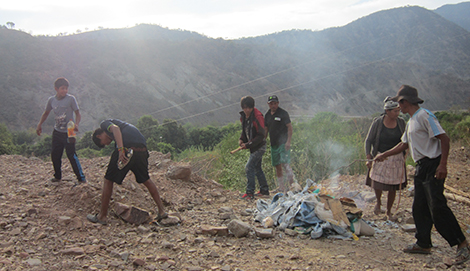 CONTEXT
The population affected is mainly rural and of Quechuan origin, its main economic activity being small-scale agriculture and fishing.

In Bolivia, Chagas disease has been declared a national priority, and a National Programme for the Control of Chagas Disease has been approved. The Department of Chuquisaca is one of the most endemic in the country, with 33% of the population there living with the disease. In children under the age of 15, the percentage is 8.5%, while 40% of pregnant women are affected.

PROJECT
The objective of the project is to contribute to improving the health status of the population most vulnerable to Chagas disease. To achieve this Ayuda en Acción will carry out different activities on the ground, such as guaranteeing the outfitting of health centre laboratories, and training health personnel in the clinical diagnosis and treatment of the disease. Housing will also be improved through construction, and treatment rooms will be implemented. Finally, workshops will be held on healthy living habits, and there will be health-related fairs and community and family hygiene campaigns.

The project execution plan is slated for 12 months, from July 1, 2017 until the same day the following year. Through the implementation of the different actions, the aim is to consolidate the participatory model through the promotion of community participation for entomological surveillance and the strengthening of local capacities.

BENEFICIARIES
The direct beneficiaries of the project are 2,412 families, 6,662 inhabitants (3,348 women and 3,314 men). The population ages 0 to 15 is 3,173 (1,553 boys and 1,620 girls). The following groups are also included in the beneficiary population: a) Directors of the Vector Information Posts - (PIV, in Spanish) (75 people: 50 men and 25 women) and 62 health professionals at the health centres.

The indirect beneficiaries are the personnel at the health centres in the Department of Chuquisaca.