Support Project for the Mental Health and Occupational Therapy for Ergotherapy Activities in Thiès
Mental health, particularly in developing countries, and above all in Africa, is an area that is frequently marginalised due to lack of human and financial resources and, also, for the stigma that still exists with respect to these illnesses. The Order of San Juan de Dios is responsible for 50% of psychiatric care in Senegal with three centres which actively collaborate with the Health Ministry and the University Hospital of Dakar. The objective is to dignify the lives of the patients and improve the prognosis of their mental illness through occupational therapy.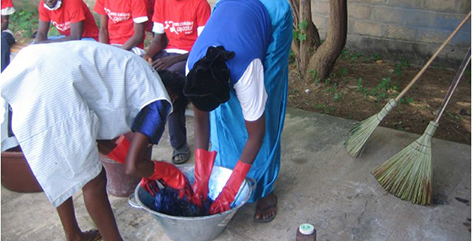 Since 2011, the Probitas Foundation has provided support to the occupational therapy activities at the Dalel Xel Mental Health Centre in Thiès, which was created in 1995 to provide coverage for mental health patients from this region. The activities –now much strengthened– include the purchase and installation of toilets and raising funds for the ergotherapy room, a garden, vegetable crops, animal care and mechanical activities. They all help improve the prognostics for the illnesses of those patients who also require pharmacological treatment.
Occupational therapy provides patients with functional rehabilitation that helps stabilise the onset of their illnesses. Furthermore, interaction with other people creates a climate of social cohesion, which stimulates creativity and helps them remain somewhat independent. This kind of occupational therapy model is an innovation in Senegal and in other surrounding countries. If targets are achieved, this model could be repeated in other areas.
In 2012, the Foundation has funded the construction of outside toilets for patients who frequent the ergotherapy room. The aim is to provide better hygiene conditions, optimise the sessions provided there and raise patients' awareness about the importance of hygiene.
In the framework of the financial aid provided in 2011, Probitas donated materials that were essential for running the centre's workshops for painting, sewing, cooking and dyeing, as well as providing tools for working in the kitchen garden and looking after the farm animals.