Support for the ophthalmic project in the Turkana District
Semidesert region exposed to ultraviolet and environmental radiation, extremely dry winds, water shortages and, consequently, hygiene problems, as well as limited food resources. All of these factors make the semidesert Turkana District in northwest Kenya a region in which there is a high prevalence of blindness. Blindness owing to these causes simply does not exist in similar semideserts in developed regions, due to being a preventable and treatable disease (cataracts), both when the origin is infectious –such as trachoma– and when the cause is vitamin A deficiency, which can cause xerophthalmia.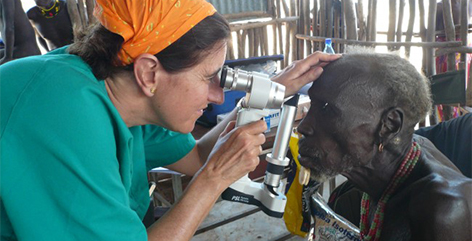 Blindness is not a trivial matter in a region that, despite having the same area as Catalonia, has 850,000 nomadic and semi-nomadic inhabitants who have almost no access to communications or healthcare. The blind represent an enormous burden on families in a society in which another child means two more eyes to watch over their small herds of livestock. It is not only a burden, but blindness itself is a serious threat to the survival of the people who suffer from this malady.
In close cooperation with the missionary community of San Pablo, established in Kenya 25 years ago, the Emalaikat Foundation brought eye care to the Turkana District for the first time in 2003. Although campaigns merely cared for existing blind people at first, the project has gradually been gaining in sustainability. The first step forward was its Eye Unit, launched in 2007 at the Lodwar Hospital, which was equipped with a surgery and operating theatre. Then, more than 20 people were given nursing training, and then started working at different dispensaries in Turkana to diagnose the most common eye problems and refer cases that required hospital treatment. These services have been interwoven with the local healthcare infrastructure.
In light of this road towards sustainability, the Probitas Foundation made a commitment to the Emalaikat Project, whose aim is not only to increase the population's access to ophthalmic surgery and clinical care, but also to prevent the pathologies causing childhood blindness due to the onset of xerophthalmia, and blindness among both children and adults via trachoma, an infectious disease caused by bacteria transmitted by contact with secretions and flies attracted to human eyes. Both xerophthalmia and trachoma have been eradicated in all western countries.
Since 2011, 71% of the population of Turkana has received treatment with azithromycin in a widespread attempt to eradicate trachoma, although, according to the WHO, annual treatment for five years is required to stamp out trachoma leading to endemic blindness. Vitamin A is also distributed twice a year to children under five to fight against xerophthalmia, in cooperation with UNICEF.
As there is no local ophthalmologist at this time, surgical campaigns are now carried out two to four times a year by a health team numbering between 25 and 30 people (a mixture of Kenyans and Spaniards). During these campaigns, vehicles go to settlements to pick up patients preselected for surgery, who are then taken to hospital for treatment. They are provided with food and lodging until they can be returned to their settlements after their operations.
Mobile clinics are organised to complement these campaigns, whose aim is to identify, diagnose and monitor patients, as well as to organise preventive activities at schools. These educational drives stress the importance of hygiene in preventing trachoma and taking vitamin A to prevent blindness.