Support for palliative care medication, healthcare, functioning and training in Cameroon. Paliativos sin fronteras, Cameroon
Palliative care is urgently needed in Cameroon but it is as yet undeveloped and there is little awareness of it.
The principal aim of the project is to help an individual's progress towards a dignified death, without pain or suffering, as often these patients die screaming in pain on their rough beds in mud huts surrounded by thousands of flies. The recuperation of a person's dignity at the time of death requires, amongst other things, specific knowledge with respect to palliative care for the management of pain. Paliativos sin fronteras (PSF) have, therefore, envisioned the future training of local personnel and the creation of a specific wing for this kind of care.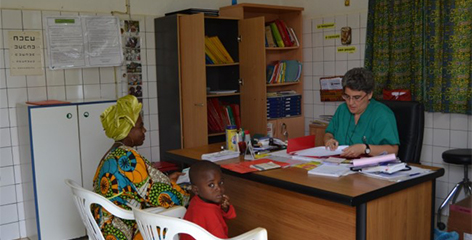 NARRATIVE SUMMARY
Paliativos sin Fronteras (PSF) works in collaboration with two healthcare centers in which there are around 110 patients a year suffering from terminal cancer, terminal AIDS, and advanced cardiac and renal insufficiencies resistant to treatment. It should be noted that in Cameroon there is only one dialysis apparatus which, as it is not free of charge, means that nobody has real access to this treatment.
The patient's homes do not meet the minimum conditions for their care as they lack running, drinking water, are without interior lavatories, and have only exterior latrines.
From April, 2012, PSF has set up palliative care in two centers in Cameroon: the Health Center in Bikoop with home care and general hospitalization, and the San Martin de Porres Hospital which has a specific unit for palliative care.
PSF has already carried the training of personnel and has started to treat patients. This type of patient, however, is chronic and treatment is necessary for some months, in addition, lack of economic resources on the part of the population hinders access to care.
The principal objective of PSF is that the person dies with dignity and without pain or suffering. To this end it has created the palliative care unit in Yaundé with 10 beds.
In addition, in order to carry our precise diagnoses of the patients it has been necessary to acquire a portable ultrasound machine. Given the scarce or null mobility capacity of palliative care patients this machine is the only tool of use to carry out diagnosis in either their houses or at the health center.
PSF has been working for years in the training of health workers. In 2013 it published its own guidebook and in 2015 two small manuals in French: How to help the terminal patient? and Teamwork. Its importance in palliative care. Moreover, with the aim of advancing its knowledge in pediatric palliative care, it acquired 30 books about pediatric palliative medicine which will be of great help in training healthcare personnel and patient associations.