Support for a medical care project at vulnerable schools in North Lebanon
Today, the country once hailed as the 'Switzerland of the Near East' is facing far-reaching and deep problems worsened by the long civil conflict between Muslims, Christians and Druzes from 1975 to 1990; and the 2006 Lebanon War between the Israeli military and the Hezbollah. Political instability, religious clashes and economic hardships have prompted a rampant diaspora to countries including Sweden, Venezuela and Australia. Indeed, outside financial help from emigrants is what currently shores up the country's fragile economy.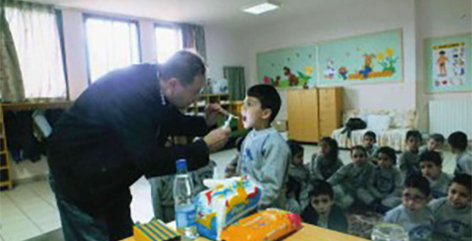 During 2012, the Probitas Foundation has lent support to the project that the René Moawad Foundation (FRM) has in Zgharta House. Located in the north, the region of Zgharta is one of the poorest in the country, with a high emigration rate to Australia, Canada and the United States. The FRM has been working in this area of Lebanon for over 10 years, supporting the populations with the greatest needs.
The project's goal is to implement a medical care service in vulnerable Christian schools so that 4439 children under 15 can receive basic health care and be referred, where necessary, to the clinic at which the René Moawad Foundation works (primarily for eye check-ups and dentistry). The project also hopes to raise parents' awareness about the importance of health, regular medical check-ups and prevention.
To fully understand the work done by the René Moawad Foundation, we must look back to 1990. Assassinated a mere 17 days after being elected president, René Moawad believed in national equality and dialogue to combat the deep religious and community conundrum of Lebanon. His wife, Nayla Moawad, currently a member of parliament, created the René Moawad Foundation in 1990 to pay homage to her dead husband. Its mission is to assist in community development, preventing migration and strengthening the shattered sense of national pride and belonging.