Strengthening the health services for the Palestinian refugee population through improved diagnostic capacity and UNRWA laboratories
The UNRWA project aims to strengthen health services for the Palestinian refugee population in Jordan through improved diagnostic capacity in laboratories. It will directly benefit 56,950 refugees and indirectly about 445,000.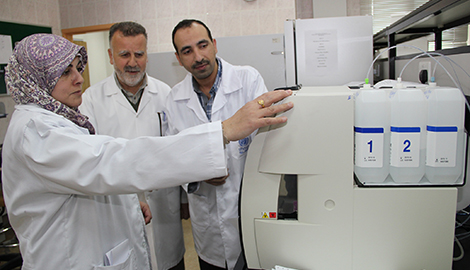 CONTEXT
Palestinian refugees arrived in Jordan late in the 40's fleeing the first Arab-Israeli war that drove close to 700,000 people from their places of origin and dispersed them from Palestine to neighboring countries. The first camps were raised without planning. The refugees lived in tents until the end of the fifties when UNRWA replaced the tents first with prefab homes and later with better, solid, but equally precarious constructions. The land on which the camps were built is mostly owned by the state and was transferred on condition that the camps could not expand in the future. Today, with the fourth generation of refugees still living there, the available space in the camps has become too small and there is a significant overcrowding and overuse of the available services and resources, insufficient for a growing population.
In Jordan, there are currently 2,110,114 Palestinian refugees registered by UNRWA, some of whom live in one of the 10 camps managed by the Agency. Other
had gradually moved to other populations, mostly near the major cities, but also in towns and villages. All of them, regardless of where they live, have the right to receive UNRWA's assistance because of their refugee status, and therefore the agency is obliged to provide the services needed to cover their basic needs, as set out in their mandate.
PROJECT
The main objective of the project is to strengthen UNRWA's health services to assist the Palestine's refugee population through the improvement of the diagnostic capacity in laboratories.
The specific objective is to improve prevention services for the detection and monitoring of chronic diseases, especially diabetes, through the provision of new detection and control methodologies and the training of laboratory staff. An improvement in the detection and monitoring of diabetes is expected through the training of the laboratory staff in new techniques on clinical biochemistry.
BENEFICIARIES
There are 60,702 direct beneficiaries: 56,550 beneficiaries of the diagnosis of diabetes according to the state statistics, 4,141 beneficiaries already diagnosed with diabetes who will be treated by measuring HbA1C and, finally, 11 people from the health centers, to be trained in diabetes and its treatment. Also, there are 445,000 indirect beneficiaries: 145,000 are the Wihdat camp population, 300,000 indirect beneficiaries including the Irbid and Wihdat coverage population, who will either benefit from the training of the laboratory personnel.