Strengthening mother and baby care in Diaobé-Kabendou, Kolda (Senegal)
With a weekly market that attracts populations from other regions of Senegal and from neighbouring countries such as Gambia, Mali and Mauritania, Diaobé-Kabendou is a trading hub. Despite its economic importance, this municipality in the region of Kolda (Senegal) continues to have poor infrastructure, facilities and urban services which cannot provide an adequate response to the basic needs of its inhabitants. The dispensary in Diaobé is in a very poor state, is understaffed and has outdated equipment which is an obstacle to primary care, birth assistance and the implementation of child vaccination programmes.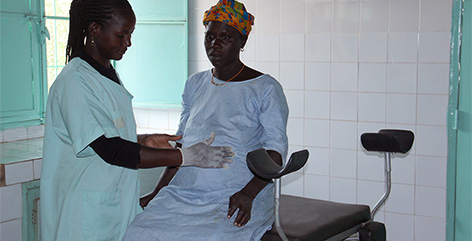 The Guné foundation, an organization with more than 6 years of experience implementing community health, food safety, education and development projects in the Kolda region, is setting up a project to strengthen the health centre in Diaobé with the aim of reducing morbimortality for mothers and children in the municipality (32% of mortality among women of reproductive age is linked to pregnancy and childbirth), controlling fertility and combating sexually-transmitted diseases.
Since June 2013, Probitas has been cooperating with this project to reinforce the technical and operative capacity of the health centre, at the same time implementing an educational programme in community health and family planning. This work is part of the Local Development Plan of the Commune of Diaobé-Kabendou and was drawn up together with Guné, local authorities, grassroots community organizations and health committees.
Together with GUNÉ's local counterpart, Association GUNE KOLDA, the project sets out to perform the following tasks:
Strengthening infrastructure and facilities; extending the maternity room and providing an ultrasound scanner and delivery beds.
Training technical staff to use and handle the ultrasound scanner, and training 10 community health agents and 40 community health agents.
Awareness raising and information campaigns on community health issues: preventing HIV/AIDS and other sexually-transmitted diseases, through talks and showings of documentaries on reproductive health and planning.
Organising advanced strategies for antenatal consultations and child vaccination campaigns: travel by health agents and midwives in the field and home visits.