Strengthening community health in vulnerable communities in Tegucigalpa. Asociación Compartir
The principal objective of the project is a better access to the prevention, diagnosis and treatment of the prevalent pathologies in these zones which are mainly caused by: lack of water, absence of drainage, lack of basic supplies and food resources, and difficult access to diagnostic tests and medication.
Moreover, the high incidence of domestic violence and teenage pregnancies are additional factors that demonstrate the scarcity of information and adequate care on the part of the health authorities.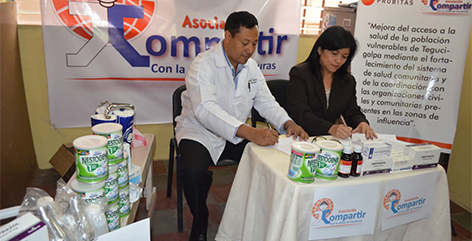 NARRATIVE SUMMARY
Honduras is one of the poorest countries on the American continent, during the last decade its development indices have continued to worsen. In 2008 it ranked 115 (out of 187 countries) and by 2012 it had fallen to 127. The PNUD estimated in its 2012 report that 66.5% of the population lived below the poverty threshold and identified inequality (the highest in the whole continent) as the greatest obstacle for the development of society, an opinion supported by the Hondurans themselves.
This project aims to improve the integral health of the populations that live in extremely precarious conditions through a series of interventions such as:
The equipping of the laboratory in the health centers of Nueva Suyapa in order to satisfactorily diagnose the most common pathologies in the neighborhoods such as dengue and hepatitis A, in addition to routine tests carried out at least once a year to children under twelve. Support for the laboratories at the 2 other health centers of Villanueva and Los Pinos.
The supply of reagents for the tests and medication for the poorest population that has no access. This intervention will prevent recourse to traditional medicine (16% of the population) and self-medication (12% buy medication on the black market).
Reinforcement of the sexual health and reproductive program, in particular with respect to adolescents with the aim of preventing unwanted pregnancies (31% of the annual pregnancies in Villanueva) and sexually transmitted diseases given that the HIV test is mainly given to pregnant women (almost only in Nueva Suyapa: somewhat extended in Villanueva and practically not at all in Los Pinos). In this area, medical personnel will also be trained to rapidly identify victims of sexual violence and provide them with the adequate prophylaxis. Currently, very few women come to the center for assistance due to being afraid of their aggressor (generally their partners) and the lack of preparation in screening on the part of the medical personnel (nurses and social workers).
Finally, the integral educators of the Compartir Centers and the health workers at the medical centers will receive training in mental health in order to attend those families that suffer domestic violence and develop self-protection skills that are necessary when working in the extremely violent and dangerous conditions that make up their daily lives.