Specialized medical care and hospital emergency care for serious chronic diseases among the refugee population in Lebanon due to the conflict in Syria
Since the 1950s UNRWA has been working in Lebanon where a little more than 493,000 people of Palestine extract inhabit 12 refugee camps and some of the 42 'gatherings' (precarious settlements) around them. UNRWA has prepared an Immediate Response Plan to the Emergency in Syria which is presented here.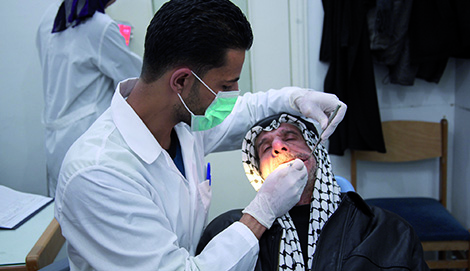 CONTEXT
The average age of the Palestine refugee population in Syria (RPS) is almost 25 years. A large part of this population is made up minors aged less than 15 years. The average family is composed of 3.48 members. More than half the RPS families have all its members unemployed, a figure that in the north of the country reaches 71%.
Although less than 3% of the RPS families entered illegally in Lebanon, currently only half the population has permission to reside in the country, basically because they cannot pay the renovation fee.
Around 95% of the refugee population in Lebanon has no healthcare coverage and no access to medical care, hospitalization or treatment from the Lebanese Health Ministry for either common or complex diseases. Almost half the RPS families have at least one member who is suffering from some kind of chronic illness, and one out of ten families has a member with some type of disability.
EXPLANATION OF THE PROJECT
In this context of RPS vulnerability, the objective is to improve coverage to the health services so that the population displaced due to conflict can access them for the care and treatment of chronic and very serious diseases. The limitations of access to the Lebanese Public Healthcare System are numerous, even for those Palestinian refugees who have lived for decades in the country.
In first place, the population eligible for medical assistance will be identified from among the Syrian refugees who have fled to Lebanon from the armed conflict. Subsequently, through an analysis of vulnerabilities, those individuals with the least resources will be attended. Such an analysis will take into account family size, the number of adults and individuals of working age, previous training and qualifications, current or potential work opportunities, the number of minors, individuals with disabilities, dependent members and the like.
Once identified, the treatment will be funded by the most appropriate method including a grant to cover costs, an agreed payment to the hospital that attends the cases, or reimbursement of the expenses incurred by the patients for their operation or treatment. An ongoing follow-up of the patients' evolution will be carried out to verify whether their condition of vulnerability has varied and consequently they need further help or are no longer eligible. All of this will be supervised by the team responsible for the management of the project in the field.
BENEFICIARIES
The beneficiary population is the Syrian refugee population identified as suffering from severe, chronic diseases. A multi-variable socio-economic study will be carried out amongst this population which will allow the identification of not only their individual vulnerability, but also with respect to their families and the environment in which they find themselves displaced which can also be included as a beneficiary