Improving the management of sickle cell anaemia in Madagascar
The project will be carried out in Toamasina, the Antananarivo area located in Madagascar with the aim of improving the management of sickle cell disease in Madagascar.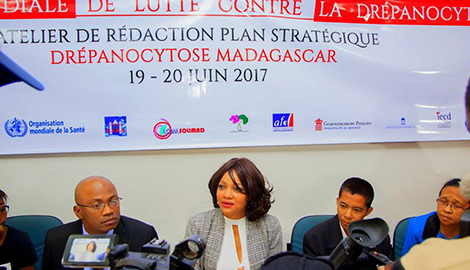 CONTEXT
Madagascar is an island of 590,000 Km², located between Africa and the Indian Ocean with a population of 22 million. Despite its vast expanse and a prolific underground mining history, 72% of the population lives below the poverty line on less than $2 (1.75 euros) a day.

This form of anaemia has two types; the milder which has a prevalence between 10% and 18%, and the most severe form with a prevalence of 1.2%. Sickle cell disease is a public health problem, leading to hospitalisations that may cost up to $21 per day (18.40 euros). Up until now, the universal social cover system is not included within state health policy.

PROJECT
The activities designed to meet the targets are based on:
Organising information and detection campaigns in the three regions where the project will be implemented.
Installing specific reference and training software for the use of physicians.
Informative therapies on the disease through performing activities such as travelling photographic exhibitions.

BENEFICIARIES
The beneficiaries of the project will be 4,000 people diagnosed as suffering from sickle cell anaemia. Also health professionals: 10 health centre physicians will be trained to use the software for data storage, 40 members of health personnel will be trained in the treatment of sickle cell anaemia. Finally, patients and their families will benefit indirectly through the distribution of medications which do not require maintenance nor therapeutic training.