School nutrition with a focus on local development in Bolivia
The Commonwealth of Municipalities for School Nutrition in Chuquisaca (MAECH), the participating municipalities and the Government of Oruro collaborate in 20 municipalities of Bolivia, in the department of Oruro, to contribute to the development of local food production chains and the reduction of food insecurity through the promotion of crops designated for school breakfasts and lunches.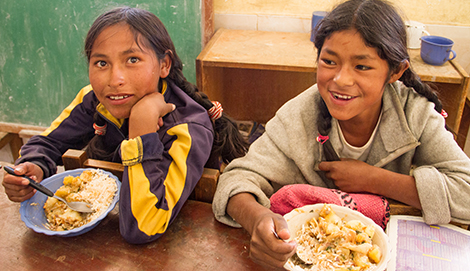 CONTEXT
Oruro is among the most vulnerable departments with regards to food security in the country: 42.9% of the municipalities are highly vulnerable, 54.3% are somewhat vulnerable, and only 2.8% feature low vulnerability. In this area the prevalence of malnutrition is chronic in children under 5 years of age in rural areas, accounting for 33.6%. The prevalence of anaemia in children under 5 in the rural highland areas is 82.5%, according to ESNUT data for 2012.

PROJECT
The main actions of the project are focused on promoting the participation of small farmers in the provisioning of school nutrition through a system of local purchases, as well as strengthening the knowledge and skills of associated small farmers as an incentive for their inclusion in the markets of municipal school meal programs.

In addition, education and training will be promoted on issues related to the diets of the beneficiaries, children, teachers, parents and other members of the community. Also key to improving the situation in Bolivia is the bolstering of local partners' capacities in the integrated management of school meal programs with regards to logistics, food preparation and the general management of school meal programs.

The project will be carried out in the municipalities of Antequera, Belén de Andamarca, Carangas, Chipaya, Choquecota, Coipasa, Cruz de Machacamarca, Curahuara de Carangas, Escara, Esmeralda, Huachacalla, La Rivera, Machacamarca, Pampa Aullagas, Santiago de Andamarca, Santiago de Huayllamarca, Santuario de Quillacas, Todos Santos, Toledo and Yunguyo de Litoral.

BENEFICIARIES
The direct beneficiaries of the project are women and men making up associations of small producers, schoolchildren, and parents on the School Boards. The number of children benefiting from orchards/tents is unknown (depending on the number of assisted schools, though an estimate based on past experience indicates that there would be approximately 3,600 children) and the number of producer associations that will benefit (not more than 20).
The indirect beneficiaries are small primary producers related to the associations.