School Meals Programme for Lebanese and Syrian Students
Funding provided by Probitas will directly benefit 550 Syrian and Lebanese children participating in the World Food Programme (WFP) school meals programme in Lebanon. This funding will ensure school meals are provided to students in one public primary school throughout the entire academic year (120 school days).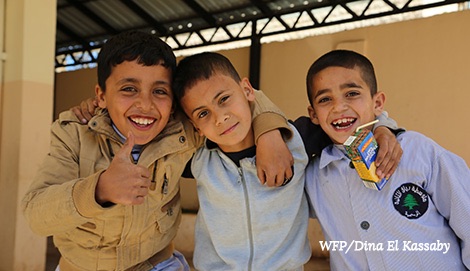 The school meals programme for Lebanese and Syrian primary school students, administered by WFP in concert with the Lebanese Ministry of Education (MEHE), is being carried out in 13 public schools offering a double shift system in vulnerable communities across Lebanon. The morning shift is offered primarily for Lebanese children and the afternoon shift for Syrian refugees.
The chief objectives of the school meals programme is to provide school meals to children during the academic year in order to encourage and improve the enrollment and retention rates for both boys and girls in public primary schools throughout the country. Additionally, the programme aims to reduce students' short-term hunger and improve their nutritional intake.
CONTEXT
In Lebanon, there are more than 1 million Syrian refugees registered with UNHCR, representing the world's largest per capita refugee population as over 25% of the population of Lebanon are refugees. Data from 2015 shows that 70% of Syrian refugee households live below the national poverty threshold (US $ 3.84 / person / day) . Only 52% of children aged 6 to 14 years old go to school and retention rates are alarming: less than half of children who start primary school complete their primary education. Amongst refugee children only 2% attend secondary school.
PROGRAMME DETAILS
The school meals programme contributes to the achievement of the United Nations Sustainable Development Goals (SDGs), specifically SDG 2 (zero hunger) and SDG 4 – (quality education). The programme is also aligned with the Lebanon Crisis Response Plan (LCRP) and supports the implementation of the Reaching All Children with Education (RACE) strategy launched by the Lebanese Ministry of Education (MEHE) which commits to ensuring that children from vulnerable Lebanese families and Syrian refugees can access education through a strengthened national education system.
The current school meals programme provides each student with: 1) a baked snack four times a week (sweet and salty snack in rotation), 2) a seasonal fruit two times a week, 3) a pack of unflavoured UHT milk two times a week and 4) a pack of natural juice two times a week. The snacks are tailored to ensure a 400-calorie intake with no more than 30 percent fat, low quantities of refined sugars and salt and zero trans-fats. Additionally, all products are produced and purchased locally.