Reinforcement of the medication production laboratory Moh Embarek Fakal.la. Medicus Mundi. Saharawi Refugee Camps, Algeria
Medicus Mundi Catalunya began to work in the Saharawi refugee camps in 1992 with a pharmaceutical assistance project. This included the construction of an essential medication production laboratory, a necessity identified by the Saharawi Ministry of Public Health (and which continues to be a priority as reflected in the Strategic Plan for the Health Sector 2011-2015).
The objectives of this laboratory are the training of local personnel and the production of medication aimed at covering the needs of the population and diminishing external dependence. Inaugurated in 1996 it forms part of the medication circuit established in the camps.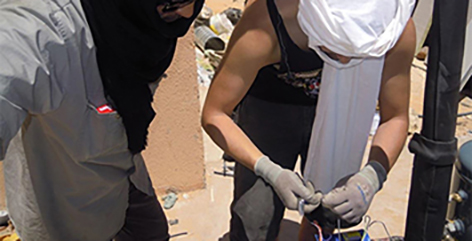 NARRATIVE SUMMARY
It is important to point out that the budget for all the sectors, including that of health, is totally dependent on external sources. Support from donors is irregular which affects the importation of medication leading to permanent uncertainty and stock rotation. This situation limits the services provided and, as a result, the quality of life of the population. Within this context the work of the essential medication laboratory is considered of vital importance to ensure correct healthcare for the population.
From 1997 local specialized personnel with university degrees in health sciences and chemistry have been involved. Efforts have been centered on training in the technical aspects of the laboratory, management tasks, and the improvement of the infrastructures to adapt them to the existing regulations for the formulation of pharmaceutical products. It should be noted that the lack of local technical personnel for maintenance and the difficulties with the shipments of materials form part of the daily challenges of the camps.
At present, we are trying to obtain the homologation of the laboratory which will represent recognition of our work and signify a great advance in the possibility of obtaining other sources of international funding.
To contextualize our position it must be highlighted that the laboratory follows standard operating procedures: it is a living tool that is constantly adapted. In its medication handbook some 60 formulations with different active substances (antibiotics, analgesics, antiseptics) and presentations (capsules, syrups, antiseptic solutions, creams, serums, drops) can be found. The camps have a national list of essential medications based on that of the WHO.
The Central Pharmacy receives and distributes the medication to the healthcare centers such as dispensaries, wilaya hospitals, the National Hospital at Rabuni, the administrative center of the camps, and the site of the laboratory. The laboratory reports to the Pharmacy Management.
The project includes the installation of clean rooms and the startup of medication production under the Good Production Practices.