Reinforcement of the laboratory of reference and medical analysis to support the program for the fight against sickle cell disease in Madagascar. SOLIMAD
The sickle cell disease healthcare center of reference in Tamatave will guarantee: diagnosis, treatment, attention, and healthcare education. Headed by the NGO LCDM, it will be the first of its kind dedicated to sickle cell disease in the territory of Madagascar. In this country, according to the WHO, 85% of affected children die before they are 5 years old due to infections and lack of healthcare.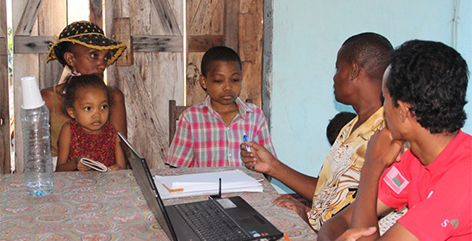 NARRATIVE SUMMARY
In spite of many efforts, access to tests and treatment for sickle cell disease in Madagascar continues to be limited. The aim of this project is to provide the existing tests for its detection at the disposal of the health centers in addition to the necessary analyses and treatments for the patients' survival. To this end, the Tamatave healthcare center, the object of this project, will be equipped with DBS1 diagnosis kits (blotter tests, envelopes, and refrigerator or freezer according to need), reagents, and medication which will allow the management of emergencies and patient treatment.
All of the above will be complemented by a mobile response unit in order to reach remote communities which at present have no access to healthcare services. It is estimated that around 18,128 people could be particularly vulnerable to the disease. Blood tests on blotter paper will be sent to the health center and will have a follow-up from the center's healthcare personnel. The laboratory personnel will also receive training to carry out the necessary analyses for the tests and the follow-up of patients' complications.
Volunteers suffering from the disease will be selected from the communities. They will be trained to carry the baton among the communities with aim of raising awareness about sickle cell disease, to provide support to patients, and form a link between LCDM and the health center.
Until 2013, and in the absence of a laboratory, there was no organization capable of detecting patients with sickle cell disease in this area. Samples are sent to Antananarivo (more than 750 km round trip) in order to carry out electrophoresis of hemoglobin 7 at a cost of some 25 euros. Private health laboratories have similar installations, but diagnosis continues to be impossible for the impoverished.
The sickle cell disease clinic of reference at Tamatave should guarantee: diagnosis, treatment, and awareness.