Reinforcement of the healthcare services in three centers at Quilalí, Matagalpa, and Jinotega. Social Co-operation Nicaragua. Nicaragua
The project is involved in the improvement of health at the community level through the implementation of a series of integral activities in three health centers.Improvement of the infrastructures in the selected health installations.
Reinforcement of equipment and fittings for these health installations.
Provision of medical supplies and essential medication.
Training of health personnel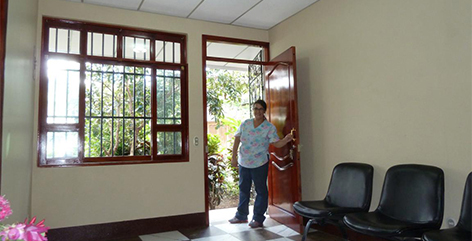 NARRATIVE SUMMARY
The present intervention has been designed with the aim of reinforcing access to quality health services at a community level and improving their infrastructure, principally by restoring and rehabilitating the present structures. Due to the project's budgetary limitations it has only been possible to work on the infrastructures of the Nuestra Señora de los Ángeles Dispensary and the Primario Bello Amanecer Hospital. In a parallel manner, the project also contemplates the design and implementation of a preventive maintenance plan for the infrastructures and equipment of the three health services to prevent the deterioration of the structures and promote their conservation and care.
The project will also improve the quality of healthcare by supplying medical equipment and basic fittings to these three installations to facilitate better diagnosis and selection of adequate treatment which will positively affect the health of the community.
In addition, to maximize the intervention's impact, access to health services will be reinforced by strengthening the supply of medication for chronic, transferable, and respiratory diseases which have the greatest incidence in the vulnerable populations of these zones.
With the improvement of the infrastructures and the implementation of the maintenance plan, the supply of medical equipment and fittings, and reinforcement of the provision of medication for the treatment of the diseases most frequent in this population, the public and community health system will be strengthened. In addition, access to these services will be improved for the most vulnerable population who, due to their condition of poverty, lack the means to acquire medication and can only receive attention in the public health system (Bello Amanecer Hospital) or community one (the Nuestra Señora de los Ángeles and Divino Niño Jesús Dispensaries).