Reducing the functional disability of a vulnerable and affected population through the improvement of access to specialized surgical care in the Gaza Strip, Palestine
The current project of Medicos del Mundo is aimed at reducing the functional disability of a vulnerable and affected population through the improvement of access to specialized surgical care. To do so, the health service capacities will be reinforced by sending specialized surgical missions to the zone (the Gaza Strip, Palestine).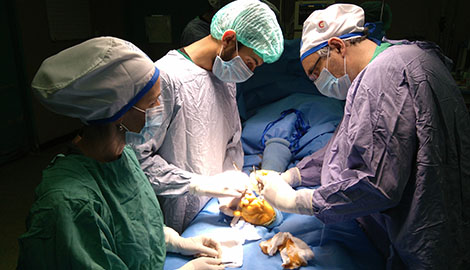 CONTEXT
Following the war in 2014 there has been a large number of patients waiting for specialized treatment and surgery. The social, economic, and political situation of the Gaza Strip blockage has worsened and aggravated the recuperation, reconstruction, and redevelopment of the institutions. The hospitals from the Health Ministry have enormous difficulty with the supplies of material, equipment, and provisions, and with the preparation and start-up of surgical interventions. Moreover, they encounter serious problems in both offering specialized care and with the follow-up of the attended cases. Forty-three percent of the Gaza Strip population is made up of children aged less than 15 years.
PROJECT
The objective of the project is to help mitigate the impact of the context and armed conflict on the health of the vulnerable population in the Gaza Strip by improving access to specialized surgical care and reinforcing the healthcare services, particularly the areas of orthopedics and traumatology. By doing so, the project aims to reduce functional disability in the vulnerable and affected population, with particular focus on children and adolescents with congenital defects and functional disabilities who are not currently receiving assistance.
In order to carry out the project, Médicos del Mundo España will provide medical and surgical care with the organization of specialized medical missions.
The programed activities are: the revision and up-dating of urgent cases on the waiting lists for orthopedics and traumatology, particularly pediatric orthopedics; rapid diagnosis to identify the organizations which work with functional disability; the identification of disabled children requiring assistance; the implementation of six medical missions specialized in orthopedics and traumatology; orthopedic surgical interventions; technical assistance in postoperative care; the implementation of a training plan for hospital personnel in child malformation, disability and orthopedics; the supply of necessary surgical and orthopedic material; and help with storage, maintenance, and stock of material in the hospital.
BENEFICIARIES
The beneficiaries of the project are the all the Gaza Strip population that suffer from untreated disabilities: a total of 500 people, 60% are children.