Protection and promotion of the right to health and human the dignity of the refugees and migrants, during their migration process in Greece
Médicos del Mundo (MdM) Spain works to promote the right to health and dignity of refugees and migrants; from October, 2015, it has been providing support to its Greek counterpart. The present project is being carried out in the Andravidas (Peloponnese) and Kara Tepe (Lesvos) camps with the aim of saving lives, preventing suffering and maintaining the dignity of the refugees and migrants during their migratory process in Greece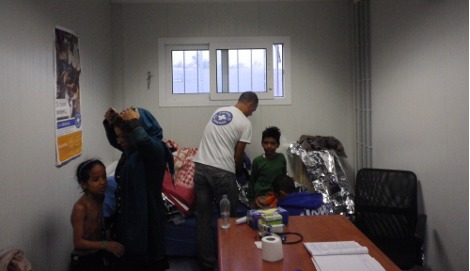 CONTEXT
The situation in Greece is extremely volatile, and even more so after the EU-Turkey Agreement and the consequent closure of the borders which forced the Greek authorities to accept and relocate almost 50,000 people in new camps. This population is composed of individuals who have either applied for asylum in Greece or are in the process of pre-registry and are waiting for a reply to their application. Access to Greek public healthcare is marked by the crisis and the deterioration of the public services which affects all the social services. The Greek population itself is suffering the impact of the crisis on the healthcare services, and the migrants are doubly affected by this situation. In a prolonged setting of permanence the migrants/refugees should have not only access to emergency services but also to assistance focused on chronic diseases.
EXPLANATION OF THE PROJECT
The present project is expected to provide access to Primary Healthcare Assistance (PHA) and also Sexual and Reproductive Health services, check-ups, general medical diagnosis, the purchase and distribution of medication, medical supplies and equipment in the Andravidas and Kara Tepe camps.
In addition, those cases that have special needs will be referred to the Greek healthcare services. Socio-medical data will be gathered in order to detect the violation of rights and thus provide arguments to support information and awareness about the situation of the refugee population.
Finally, MdM aims to influence political policy-making with regard to these people's rights and the violations that occur due to the non-fulfillment of European and international agreements about such issues.
The context is in constant flux and, as a result, certain flexibility must be maintained to adapt the intervention to the demands of the circumstances in agreement with the legal and humanitarian situation of the most vulnerable population.
BENEFICIARIES
It is expected that around 1000 people will directly benefit. They are migrants and refugees who have come to Greece and, following the EU-Turkey Agreement, find themselves blocked on the island of Lesvos (Kara Tepe camp) and/or relocated in the only established camp in the Peloponnese (Andravidas). The latter opened in March, 2016, and has 248 people whilst the former is barely a settlement composed of vulnerable individuals and families, 691 people in total, who have been transferred there from the semi-closed camp of Moria.