Mapping, early diagnosis and treatment of leishmaniasis in endemic communities in northern Nicaragua
The project aims to contribute to controlling leishmaniasis in hyper endemic areas in northern Nicaragua with the collaboration of MoH (Ministry of Health), the network of community health leaders and the technical team of Fundación Damián. The place where the project will be implemented centres around Matagalpa, Jinotega, Minas and Nueva Segovia.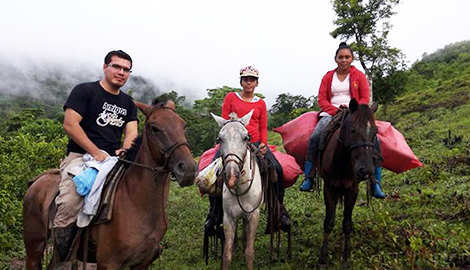 CONTEXT
Nicaragua has a population of 6,149,928 inhabitants with a population density of 48 inhabitants per square km. The central and Atlantic regions are predominantly rural. The country is distributed in 15 departments, 2 autonomous regions and 153 municipalities.

The socio-political and health situation is in deep political crisis characterised by social unrest, a failing economy and polarisation on several issues. In terms of government spending on health, the government allocates 73.3 USD per person per year (2017), the equivalent of €0.85988. The fertility rate is 2.3 children and life expectancy at birth is 75.8 years. Currently, there are some 4,000 cases of leishmaniasis diagnosed annually and treated with Glucantime.

PROJECT
The project, carried out by Prosalud, aims to contribute to controlling leishmaniasis and ensuring those affected by this disease receive quality care. This will be done by searching for cases in the most endemic communities of the selected municipalities using the FCHM (Family and Community Health Care Model) strategy. It also aims to contribute to improving the epidemiological surveillance system forming part of the National Leishmaniasis Program and the National Diagnostic Referral Centre, by filling in gaps in their initiatives.

The following activities are planned to make this a reality:
Comprehensive visits to the endemic municipalities together with the Ministry of Health.
Small health fairs in San Ramon and Siuna.
Actively seeking out leishmaniasis patients in El Cua.
Training the community and family health program team, laboratory personnel and health brigades.
Hubs in endemic municipalities.
Socio-economic support for families living in extreme poverty.
The outcomes expected after two years following the implementation of the project (the period within which all activities will be carried out) are early detection, prompt treatment and a greater than 90% cure rate and an improvement to municipal and community epidemiological surveillance.

BENEFICIARIES
The direct beneficiaries of the project will be 5,344 people affected by leishmaniasis (44% are women and 39% are under the age of 15). 260 doctors, nurses, auxiliary nurses and laboratory technicians and 230 health leaders of the endemic community network which will be subject to intervention, will also benefit.

The entire general population seeking comprehensive health care and receiving educational talks on disease prevention and promotion measures will be indirect beneficiaries.