Vall d'Hebron i CTAC
In March 2018, the Probitas Foundation launched a pilot programme with Vall d'Hebron Institut de Recerca (VHIR), Hospital Vall d'Hebron (HUVH) and the Centre for Dog-Assisted Therapies (CTAC). The Dog-Assisted Therapy project is designed to improve the quality of life of children with Foetal Alcohol Spectrum Disorders (FASD) who attend the Psychiatric Service's Foetal Alcohol Syndrome Programme on an outpatient basis.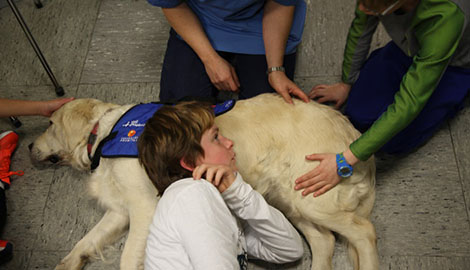 The Dog-Assisted Therapy project is a long-term study to examine the introduction of animal-assisted therapy services in a hospital setting as a service to departments that could benefit from such activities. The results of the project will provide a basis for long-term implementation of an animal-assisted therapy programme.
The programme is provided at psychiatry outpatient services under the supervision of Dr Ramos-Quiroga and his team, facilitating interaction between the patient and an animal that has been specially selected, socialized and trained: a therapy dog. Working side by side with the health professionals of Vall d'Hebron, these animals help facilitate interactions and motivate patients to achieve their therapeutic goals.
The pilot phase consisted of 5 hours of therapy per week, with evaluation of 40 patients, 36 with FASD and 4 with Autism Spectrum Disorder (ASD).