Project to improve the basic care services for the marginalised urban areas of the district of Chiclayo
The Probitas Foundation, in collaboration with the Spanish entity, Cooperación Social, and having as local counterparts the University Santo Torbio de Mogrovejo (USAT) and the Medical, Odontology and Nursing Schools of Chiclayo, have provided equipment for the laboratory and blood bank at the recently constructed Mother-Infant Centre which aids families with scarce resources from the marginalised urban areas, know as the "new towns" in the Chiclayo district.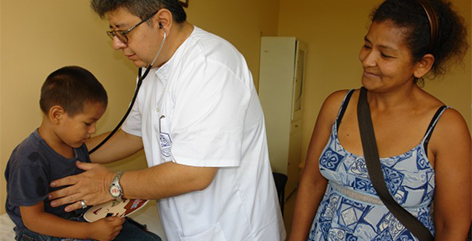 The Chiclayo metropolitan area is made up of approximately 30,000 hectares with a population of 586,564 inhabitants. The relationship between Chiclayo and its surroundings is dynamic due to the constant flow of people who commute daily between Chiclayo and its smaller satellite towns.
The large number of people involved means that the settlements or "new towns" located at the periphery of Chiclayo are increasingly greater in number and extension. In these places extreme poverty and lack of basic services such as access to drinking water and sanitation predominate. In addition, the most vulnerable populations have no access to hospitals so they are forced to go to the state medical centres which are in a precarious condition and, very often, can not provide a solution to their problems due to a lack of means.
In 2011 the Probitas Foundation gave its support to a project to equip the laboratory and blood bank of the recently constructed mother-infant centre.
The centre was installed with the necessary equipment for the correct functioning of a clinical laboratory that could diagnose the most prevalent diseases and carry out their follow-up. The blood bank was also equipped so that it could provide an immediate response for the necessary transfusions due to accidents or complications arising from births, thus reducing the high maternal mortality rate to be found in such contexts of vulnerability.
Besides the installation of equipment, support from the Foundation included the capacity-building of local personnel for the laboratory and blood bank. The management of the project was carried out by a team made up of teaching staff from the University of Medicine, Nursing and Odonthology who are committed to lending their services at the lowest possible cost, similar to the public health service, so as make the service available to these disadvantaged populations.
The most frequent causes for consultations during 2011 have been: intestinal and respiratory infections, infantile malnutrition, prenatal control and help at birthing.