Prevention and treatment of cystic echinococcosis in Acopios and Pomacanchi, Peru
Prodein is a non-profit entity carrying out a project for preventing and treating human Cystic Echinococcosis (CE) in the rural communities of Acopio and Pomacanchi, in the province of Acomao, Cuzco. CE is a parasitic disease affecting humans and other mammals such as sheep, dogs, rodents and horses.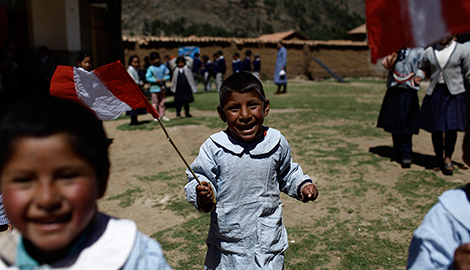 CONTEXT
Official reports of the Ministry of Health have recorded more than 2,000 cases of this disease every year for the last few years, which equals seven or eight cases per 100,000 inhabitants.

Diagnosing CE is based on clinical and epidemiological information and imaging (ultrasound). Portable ultrasound is very useful for diagnosing the disease in the field.

PROJECT
To carry out the project, Prodein will implement actions aimed at preventing and treating CE in the areas of intervention and will carry out the following activities:
Compiling statistics
Free ultrasound campaign
Diagnosis
Treatment
Follow-up
Preventive campaign in schools and treatment information in the Medical Centres of Acopio and Pomacanchi and prevention campaign.
The disease prevention and treatment phase will take place during the first year. And during the second phase, laparoscopy and thoracoscopy for hydatid cyst surgery will be applied. The aim of these activities is to prevent and provide treatment to the affected people and put in place continuous training strategies for medical and teaching personnel. With regard to the student population (the age at which the disease could be contracted through contact with dogs, mainly) the same should be analysed by an elimination ultrasound to control the transmission of the disease.

BENEFICIARIES
The number of direct beneficiaries is 1,880 people, of whom 940 are women and another 940 under the age of 15.

Indirect beneficiaries are 7,850 people, including relatives of those affected, health personnel, teachers and the people of Acopio and Pomacanchi.